irsyad-clodi-baby
Monday, 10 October 2011 21:23:11
for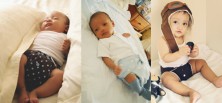 Post a Comment
You must be logged in to post a comment.
Menurut urban mama, apakah si kecil perlu minum susu selepas ASI?
Tidak perlu, sudah cukup dari asupan makanan saja (23%)
Perlu dan memilih susu yang lengkap, mengandung AA, DHA, vitamin dan mineral (26%)
Perlu dan memang kebutuhan nutrisinya terutama masih didapat dari susu (17%)
Perlu, susu tanpa formula khusus sudah cukup (34%)
Loading ...