A Visit to Taman Safari Indonesia
Tuesday, 26 October 2010 0:43:49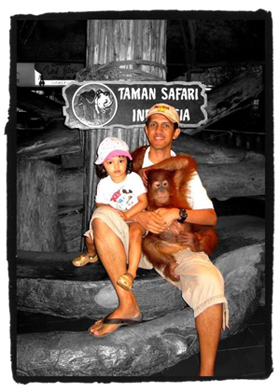 During our Lebaran Mudik 2010, we visited Taman Safari Indonesia at Cisarua Bogor. This will be Naia's first trip to the park and it's been a long while since both myself or Shinta visited the park. We see lots of improvements and the park is much more organized than what we remembered.
Naia was quite excited about the trip, as she wanted to see lion, crocodile and dolphin. So, we decided to sit her at the front seat on my lap as we entered the park. The first attraction was the elephant quarter. The Sumatran elephants were kept in their quarter, so we could only see them from some distance, but still close enough from our car. Next to the elephant quarter, we saw the zebra quarter. We saw some black-and-white creatures gathered under the trees inside the quarter. However later during our trip inside the Safari Park, we also met some zebras walked on the street, approaching each cars, asking for some carrots from passengers.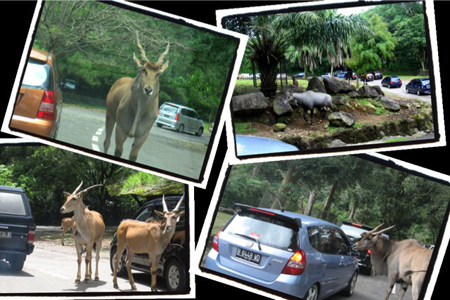 Not only zebras, we also met various animals approaching cars, such as deers, bulls, llamas, ostriches, rhino, and many more that I can't name. Some of the animals were big enough, even bigger than some small-sized cars. Some carry big and long horns, so we needed to be careful when it passed our car, otherwise those big horns could make a big noticable remark in our car.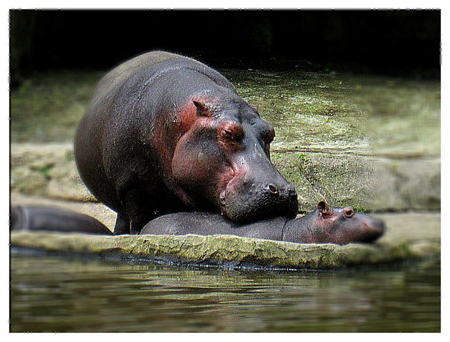 There are also animals in their quarters, such as bear, camel, cassowary, girrafe, hippo, peacock, tapir, etc. From the vertebrae quarters, we moved to carnivor quarters. There we saw leopards, lions, tigers, and small crocs. All of the animals look well fed, so we could feel safer. However the park always warns us not to open our windows when we are in the big cats' quarter areas, and we'd better obey the warning.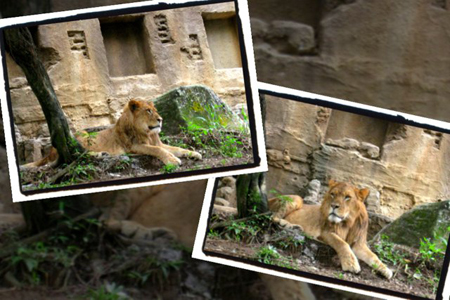 One round trip inside the park took around one hour or so. After that, we decided to have our lunch and we head to parking area G. There is an open building in the parking area, with a canteen that sells some food and drinks. The building was quite clean, but the staffs would suggest us to pay IDR1K to use the toilet (although they would not scold you for not paying too). Inside the building, we opened our lunch packs from home and had our lunch. We also bought some coffee from the canteen. Around the building, there are some swings for kids too but not too well maintained.
After lunch, we went to the main parking area (parking area A), where we could find some other attractions such as elephant show, mini choochoo train, pony rides, camel rides, elephant rides, baby zoo, etc. Those rides are 'real animal' rides, and they only cost you IDR10K (SGD1.50) per person. There were also some souvenir shops and cafes/restaurants too. To note, if you want to park your car in this area, please avoid coming at around lunch time as you will have difficulties to find a spot to park your car (and maybe some spots to sit down too).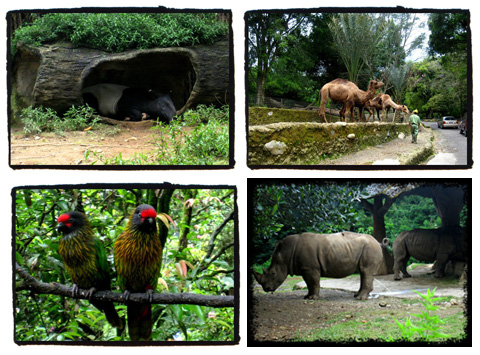 We didn't take any animal rides, instead we went to the baby zoo. The baby zoo is quite recommendable and there's no additional charge. Inside, you can see white tigers and other big cats in their cages. But before reaching the big cats, you will pass the big bird cage. The collection was quite amazing. They have cendrawasih (the paradise bird from papua), cockatoo, pelican, and many others. After the big bird cage you will reach a park. One of the attraction in the park is picture taking with baby animals, such as orang utan, tiger and lion. No picture taking guy, so you need to use your own camera. The fee? It's only IDR10K (SGD1.5) per person, but you can take pictures as many as you want. We decided to take pictures with baby orangutan, which was quite cute.
Since it had been late after the visit to the baby zoo, we decided not to go to the dolphin show. There are twice a day shows daily, at 13.30 and 16.30. There are also other shows at the same timings, such as elephant show, tiger show, sea lion show, etc. We left the Taman Safari Indonesia around 18.00, and seems Naia had a lot of story to tell after the visit.
Post a Comment
You must be logged in to post a comment.