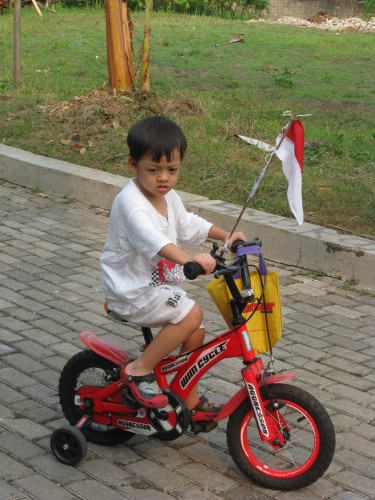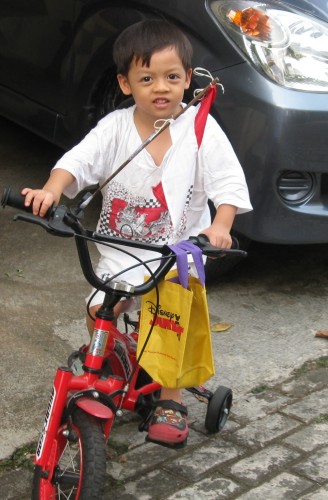 Bendera merah putih
Bendera tanah airku
Gagah dan jernih tampak warnamu
Berkibarlah di langit yang biru
Akhir-akhir ini sering saya dapati Albert bersenandung lagu-lagu seperti Bendera Merah Putih, Berkibarlah Benderaku, 17 Agustus, Garuda Pancasila, dll. Rupanya dia belajar lagu-lagu itu dari sekolahnya, dalam rangka menyambut HUT RI ke-67. Senang juga mendengar dia menyanyi lagu-lagu yang dulu juga saya nyanyikan sewaktu masih sekolah. Entah sudah berapa tahun lalu terakhir kali saya ikut upacara bendera. Ternyata saya masih ingat lagu-lagu itu.
Belakangan ini Albert juga ribut minta sepedanya dipasangkan bendera seperti tahun lalu. Tahun lalu saya memasang bendera kertas pada sepedanya. Albert sangat sedih ketika benderanya itu rusak terkena air hujan. Tahun ini saya sudah menyiapkan bendera kecil untuk sepedanya, selain bendera besar untuk dipasang di halaman rumah.
Albert tampak senang dengan bendera merah putih baru di sepedanya. Semoga ini jadi awal dari kecintaannya pada tanah air.
Selamat HUT RI ke-67! MERDEKA!
Post a Comment
You must be
logged
in to post a comment.