Cooking with Kids: Mini Sweetheart Pizza
Tuesday, 10 February 2015 0:01:00
Enji Magetsari
A working mom, originally from Bandung. She lives in Singapore with food critics son Mahavyr and husband Arrizky Magetsari.
Instagram:
http://instagram.com/enjita/
Tentunya sulit untuk berkompetisi dengan snack jajanan menarik yang mudah didapat di sekitar anak-anak kita. Terutama jika jajanan tersebut adalah nuggets dan pizza yang mungkin bisa saja bersih dan murah, tetapi apakah gizi dari processed food tersebut cukup untuk anak-anak terutama bagi anak-anak yang lebih besar?
Dalam DIY Bento yang bertemakan Valentine's Day ini saya akan berbagi cara mudah membekali anak dengan bahan-bahan pizza yang mereka bisa buat sendiri di sekolah atau dirumah bersama teman-temannya. Jangan buang sisa potongan roti karena bisa dipanggang menjadi croutons untuk dibubuhkan diatas cream soup atau salad.
Bahan :
Roti (roti tawar, roti gandum, naan atau tortilla wraps)
Mini pepperoni atau sosis favorit anak
Parutan keju cheddar atau mozarella
Brokoli
Saus pizza, saus pasta siap pakai atau saus tomat secukupnya
Alat :
Gunting dapur atau Cookie cutter bentuk hati ukuran besar.
Muffin Cup
Cookie Cutter bentuk hati
Cup kecil beserta tutupnya untuk wadah saus
Cara membuat :
1. Gunting atau cetak roti membentuk hati, atur dalam kotak bekal.
2. Parut keju secukupnya, atau jika ada waktu, cetak dengan cookie cutter bentuk hati.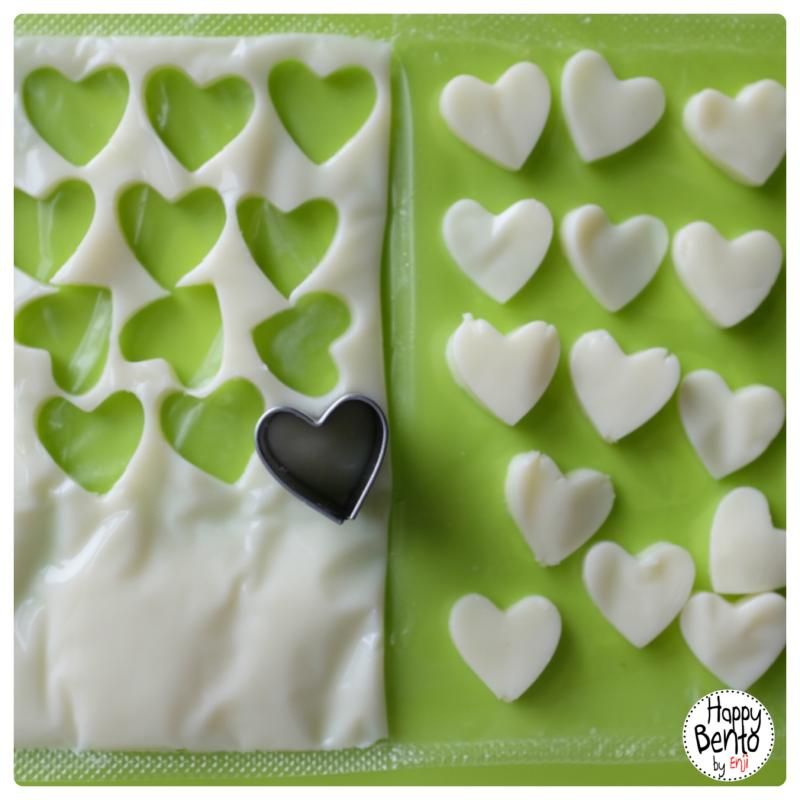 3. Potong-potong sosis dan jika ada waktu cetak pepperoni secukupnya dengan cookie cutter bentuk hati kemudian rebus atau tumis dengan sedikit margarin hingga matang.

4. Iris tipis brokoli, rebus hingga matang, tiriskan.

5. Susun potongan sosis, parutan keju, irisan brokoli dalam muffin cup. Siapkan saus pizza secukupnya dalam container kecil dan tutup rapat.

Mudah sekali bukan? Si kecil pasti akan senang melahap pizza mini buatannya sendiri. Happy Valentine's Day and Happy Bento Urban Mama!
Post a Comment
You must be logged in to post a comment.