Outfit for Rainy Day
Sunday, 10 March 2013 0:01:58
Tik tik tik bunyi hujan di atas genting.
Airnya turun tidak terkira.
Cobalah tengok dahan dan ranting.
Pohon dan kebun basah semua.
Saat cuaca tidak menentu seperti akhir-akhir ini, salah satu perlengkapan tambahan yang saya sediakan untuk Baron adalah jaket. Awalnya saya beli jaket ini untuk kebutuhan field trip sekolahnya Baron, tapi ternyata ia suka ingin memakainya di acara-acara lain, padahal sedang tidak hujan, seperti saat merayakan ulang tahun tantenya weekend yang lalu.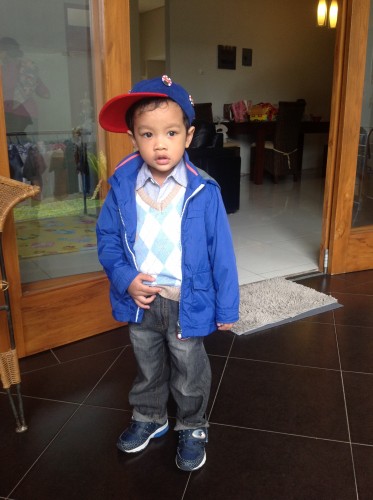 Kemeja: Hipofant versi US heroes
Rompi: Banana
Jaket: Zara Kids
Jeans: Oshkosh B'gosh
Sepatu ada lampunya: Bubble gummers
Topi: unbranded
Post a Comment
You must be logged in to post a comment.