Homemade Chili
Friday, 20 February 2015 0:01:29
Urban Mama must know that famous chili soup from Wendy's right? Or chili dip that restaurant pours on top of nachos? It's yummy isn't it? Indeed… it's one of my favorites!
I know that this should be easy to make but I never tried to do it cuz I thought it will take a long time to make, which I don't have the passion for. So one day I come across the recipe using slow cooker. Since I haven't used my slow cooker after my youngest stopped eating porridge or baby food, I thought, why not make use of it for food all of us can enjoy? It should be easy enough to make!
Turns out, not only it's easy, it's also yummy and because I made it myself, I know what goes into the pot!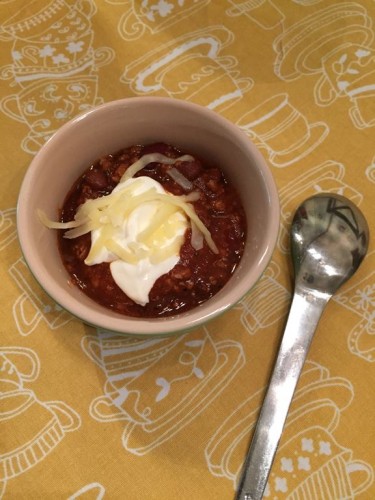 Ingredients:
1/2 kg ground beef
1 cup of kidney beans (or from a can) – *kacang merah
1 cup of pinto beans (or from a can) – *kacang hitam
24 ounce tomato sauce (or from a can)
1 tbsp tomato paste
1/4 cup water
1/8 tsp cayenne pepper
1/4 tsp salt
1/4 tsp sugar
1/4 tsp ground cumin powder
1/4 tsp ground oregano powder
1/4 tsp black pepper
2 tbsp chili powder (or you can put less for less spicy taste)
Directions:
Stir fry the ground beef in a wok until cooked, no need to use oil or butter. Drained.
Put the ground beef inside the 1/2 litre slow cooker, and add all the ingredients. Stir well.
Turn on the slow cooker in medium setting, cook for 4 hours.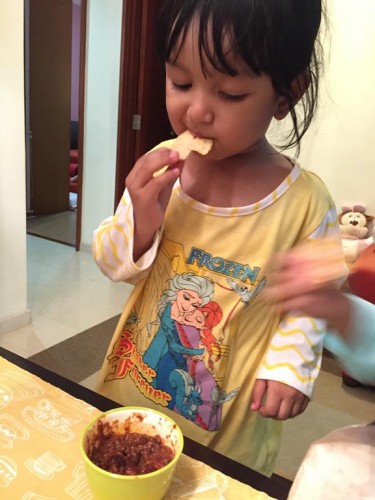 You can eat it like a soup or pour it over nachos, give some sour cream and melted cheese, or in my households, the kids love to eat it as a dip. I just put it in a bowl, drop a gallop of sour cream and shredded cheese on top… everyone can't stop eating it!
Post a Comment
You must be logged in to post a comment.