Randy Salim
Wednesday, 27 January 2010 0:05:25
for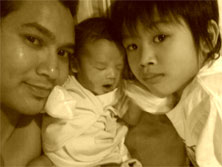 Randy Salim was a news anchor for Metro TV for several years before he moves to work at World Bank in Jakarta as Communications Officer. Rock music has always been his interest in spite of his groomed-looking attire, but despite all, he's a dad. You can tell he channels his love to rock music to the names of his two sons, Zoey (6yo) and Navarro (7mos). Randy is married to a beautiful wife of 8 years, Mia.
Just had a discussion about this with my wife recently. Loving kids does not necessarily make you a (good) father. I've always loved kids. With two much older siblings, for years I've been Oom Randy to three nieces and a nephew. Now I've got two boys of my own: Zoey, 6 years old, and Navarro, 7 months. Particularly in the case of Zoey: I fathered him, but I didn't really become a dad until he was about 4. I love him intensely, would murder and maime to protect him, but my mistake was assuming that a son's love for his dad would be a given. Not to say there weren't any moments of bonding during his infancy: I'm quite proud of the fact that me and Zoey flew together (benar-benar cuma berduaan) to Canberra when he was 3 to catch up with his mom. Changed him when he peed his pants, fed him, prepared his milk, patted his butt to sleep — all the stuff a decent parent (irrespective of gender) is supposed to do. When he got sick in Canberra, I even carried him on my shoulders for a 5km walk to the doctor. There was absolutely nothing I wouldn't do for his wellbeing. But in retrospect I do remember not always being in the moment WITH him. I remember being irritated because he wanted to do A, I wanted to do B and I couldn't figure out a way to reason with him. In retrospect I know I was like this a lot of the time because I allowed work to consume me, and I didn't want to have to "work" as hard when I got home. I used to work in the broadcast industry: insane, long hours with work that did not necessarily stop when you left the office. Zoey was still asleep when I had to leave the house every morning at about 3AM and was already pretty sleepy by the time I got home at around 7PM (you are not reading these work hours incorrectly — this was my reality). I would try to make up for it on weekends by showering him with gifts, etc — buying him off — but kids are not idiots. Which is why for the first four years of Zoey's life, I knew that in his hierarchy of needs: I came in third after his mom and nanny. Sound familiar guys? Let me tell you: it's not something you should accept as being "wajar". And if you do, then you're just lazy and having a child is probably more of a social status symbol to you than anything else.
Kids see right through you. If you want their respect, you have to earn it, just like anybody else. You have to earn it by BEING with them: physically, emotionally, as much as you possibly can. I changed careers when Zoey was about 4 years old. Work hours became more stable, I could "switch off" more when I got home. I was there to help him with homework. Play Monopoly with him and his mom. Play Playstation games that allow for two simultaneous players. Help explain that mom's belly would soon get bigger and he would be a big brother in a few months. I helped him get excited about being a brother and "third parent". After his baby brother was born last year and mom needed some time to rest, me and Zoey had a boy's day out at Dufan: he chose the rides, laughed hysterically, ate like a horse, and fell asleep with his head on my lap on the ride home. At this point Zoey had also become more bilingual, more inquisitive, more conversational and I would always try to speak to him with the same courtesy and reason I would accord to an adult. "Because I said so" doesn't exist in my vocabulary with him.
There was a time when Zoey would literally used to say "I don't love you Pa" and I would not know if he was joking or not. Either way it would hurt like hell because I know how affectionate he is with his mom. Nowadays though, before he would go to sleep at night, he'd hug his mom and say "I love you Ma" — and then turn to hug me and say "I love you Pa".
Randy Salim
Post a Comment
You must be logged in to post a comment.