Agus Mulyono
Selasa, 02 Februari 2010
for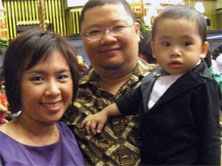 Agus Mulyono
is a thirty something guy
.
He is the owner of
kartunama.net
where you can order your business card easily... and FAST!
Liam, lahir 21 Juli 2008. Sejak kelahirannya, hidup saya dan Mimi berubah. Hidup kami menjadi lebih bahagia dan menyenangkan.

Sebulan sebelum Liam lahir, saya membuat blog untuk dia, www.liamms.com.
Bukan text blog, tapi lebih ke photo blog. Alasannya simpel, supaya sanak keluarga yang lain bisa melihat foto Liam (dan kami) kapan saja.
Bahkan sekarang Liam juga sudah mempunyai account Facebook. :) untuk memudahkan keluarga kami mengetahui perkembangan Liam.

Seperti halnya anak laki-laki, Liam suka mainan mobil-mobilan terutama bagian rodanya. Mamanya dan saya sering gak habis pikir kenapa Liam sangat menyukai roda. Jika ada mainan baru, yang dimainkan selalu bagian rodanya.
Jika dalam mobil, dia selalu berdiri di samping jendela dan memandangi roda dari mobil lain.
Saat jalan-jalan di mal, dia juga selalu melihat roda dari stroller anak lainnya dan berusaha memainkannya. Begitu pula jika dia melihat koper dan stroller di mal.
Harapan saya dan mamanya adalah di kemudian hari Liam bisa menjadi apapun yang dia inginkan.
Kami akan mendukung sejauh dan semampu mungkin.
Love you son. :)
Post a Comment
You must be
logged
in to post a comment.