Baby-Led Weaning. Helping Your Baby To Love Good Food.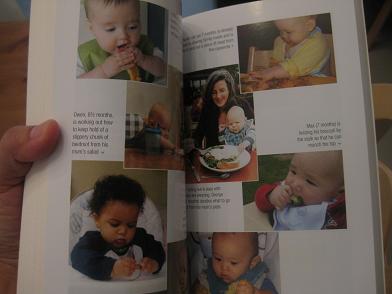 Beberapa minggu sebelum anak kedua saya, Arzachel, berumur 6 bulan, di forum MPASI The Urban Mama ada diskusi mengenai Baby-Led Weaning. Saya sangat tertarik dengan metoda ini. Lalu saya membeli bukunya, Baby-Led Weaning. Helping Your Baby To Love Good Food.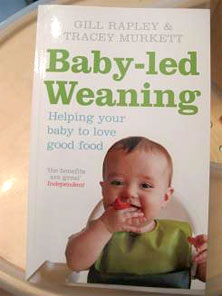 Sesungguhnya, Baby-Led Weaning (BLW) ini bukan sesuatu yang baru, tapi dulu belum ada istilahnya.
Di buku ini terdapat 8 bab.


What is Baby-Led Weaning?


How Does BLW Work?


Getting Started.


First Food.


After The Early Days.


BLW and Family Life.


A Healthy Diet For Everyone.


Troubleshooting.


BLW berbeda dengan MPASI konvensional yang memberikan makanan kepada anak (berusia 6 bulan atau lebih) dengan cara disuapi (spoon-fed). She feeds herself from the start, rather than spoon-fed by someone else.
Manfaat BLW:


It's Enjoyable.


It's Natural.


Learning About Food.


Learning to Eat Safely.


Learning About Their World.


Reaching Potential.


Gaining Confidence.


Trusting Food.


Being Part of Family Meals.


Appetite Control.


Better Nutrition.


Long-term Health.


Dealing With Texture and Learning to Chew.


The Chance to Experience Real Food.


A positive attitude to Food.


Easier, Less Complicated Meals.


No Mealtime Battles.


Less Pickiness as A Toddler.


No Need For Games or Tricks.


Baby Isn't Left Out.


Eating Out Easier.


It's Cheaper.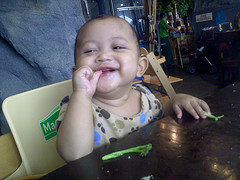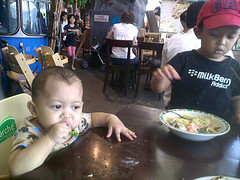 Eating out easier.
Disadvantage of BLW:


The Mess.


Other's People Worries.


Di buku ini pun terdapat beberapa kutipan dari pada ibu yang menerapkan metoda BLW kepada anak-anaknya. Ini salah satunya:



"Everyone says Emmanuel's skills with his hands are amazing for his age - but i think it's normal. Every baby should be able to do those things; it's just that they don't get the opportunity to practise the way they do if they are feeding themselves a variety of foods every day. But nobody believes me when I say it's because he's always fed himself." - Antonietta, mother of Emmanuel, 2 years.



Troubleshooting
Anak saya, Arza (7 bulan) hingga kini masih bereksperimen dengan memegang makanan yang saya berikan, masih mencium-cium, kadang-kadang dimasukkan ke mulut. Belum banyak makanan yang masuk. Di bagian Troubleshooting, dijelaskan sebagai berikut:



Avoid the temptation to describe your baby as 'a poor eater' or to say that he has a 'poor appetite'. Provided you are still giving him as much breastmilk (or formula) as he wants, he will be eating as much other food he needs - there's nothing poor about that!


Continue including your baby in mealtimes and letting him handle the food, even if he doesn't seem interested. That way, he will begin to eat more as soon as he's ready.


Tips


Turunkan ekpektasi bahwa saat mulai BLW, anak akan langsung makan. Sebagian iya, sebagian tidak. Bayi yang melakukan BLW pada beberapa bulan pertama tidak makan dalam jumlah yang besar. Selalu berpikir bahwa saat makan adalah saat playtimes.


Berniat untuk melakukan BLW? Expect some mess! Sebaiknya sediakan alas bersih yang disimpan di bawah high chair karena si kecil pasti akan menjatuhkan makanan.


Nikmati proses BLW menjadi sesuatu yang menyenangkan. Dengan demikian, si kecil akan lebih yakin dan percaya diri untuk mencoba makanan yang baru dan dia akan menunggu-nunggu saat makan bersama urban Mama :).


Link yang bermanfaat:
Silakan bergabung untuk berdiskusi mengenai BLW di forum The Urban Mama.
BLW Guidelines BLW Guidelines.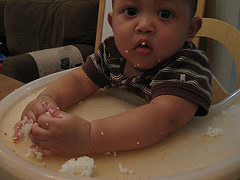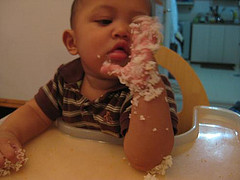 BLW? Expect the mess!
Bagi para urban Mama yang tertarik untuk menerapkan metoda BLW, buku ini sangat saya rekomendasikan. Semua pertanyaan yang muncul terjawab dan diterangkan dengan baik melalui buku ini.