This is my first cake ever. After contemplating what cake should be my first then I choose Banana Cake. And the result, it's deliciously moist and sweet.
Banana cake best made with bananas that are really over-ripe, the more they rippen, the sweeter they become.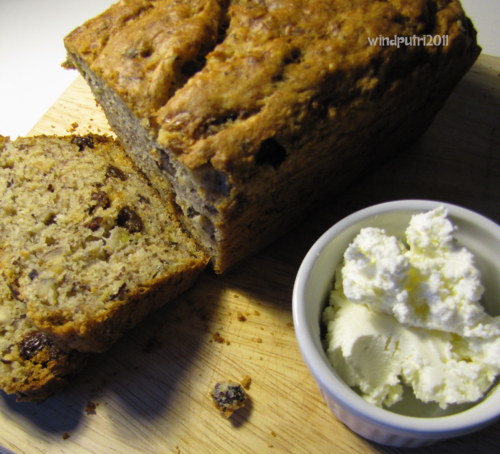 Ingriedients
:


butter or oil for greasing


100 g self raising wholemeal flour (or 100 gr plain flour with 2tsp baking powder)


½ tsp ground mixed spice (I used cinnamon)


50 gr butter (preferably unsalted)


75 gr raisin


200 gr mashed bananas (1½-2 medium-sized ripe bananas)


50 gr walnuts,ground or finely chopped


1 egg,beaten


for topping


200 gr cream cheese


how to make


Preheat the oven to 180°C/Gas Mark 4 and lightly grease a 450 g loaf tin


Sift the flour into a large bowl and add the spice. Cut or break the butter into small cubes and add it to flour. Using hands, a pastry blender, or a food processor (I prefer using hand), rub the butter into the flour until the mixture looks like fine bread-crumb. Stir raisins and make a well in the centre of the mixture.


In separate bowl, mash the banana,add the walnuts and stir in the egg. Pour the banana mixture into the flour mixture and fold in.


Put the mixture into the cake tin and put it in the oven.Turn the oven down to 160°C/Gas Mark 3 and bake for 45-60 minutes,or until done.  (Check by inserting skewer- it should be come out clean)


Remove the tin from the oven and allow to cool for 5-10 minutes,then turn out on to the wire rack to finish cooling.


Serve plain, with creme fraiche, or natural yoghurt,or covered with topping.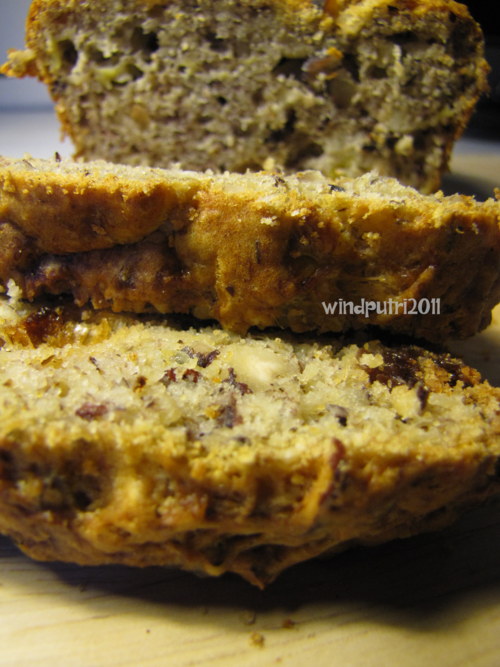 recipe taken from 
The Baby Led Weaning Cookbook