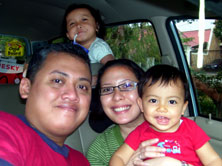 Chandra Marsono, papa dari Vira (perempuan, 3.5thn) dan Arkan (laki-laki, 1thn), dulunya a Working at Home Dad, tapi sekarang udah jadi Working Papa lagi.

Our favorite activity akhir-akhir ini adalah lari-lari di taman, terutama Taman Surapati atau Taman Kelapa Gading. Sebisanya kita ajak anak-anak keluar rumah ke daerah terbuka.

Kalau sama Vira, sekarang ini sedang aktif gambar dan mewarnai. Aku suka beliin dia buku yg banyak gambarnya, jadi walau belum bisa baca aku mau dia tell the story menurut dia aja hopefully biar kreatifitasnya berkembang. Kalo untuk reading lebih sering ke Starfall.com buat belajar kalau sedang berdua.

Kalau sama Arkan lebih seringnya kejar-kejaran. Baru selesai ngajari Arkan jalan dan babyproofing our house (well, most of it). Selain itu, kita juga suka main bola, ibunya lempar bola, aku megangin Arkan buat nangkep. Kalo pas ketangkep dia suka ketawa kegirangan banget.