Why people don't take very young kids to cinema and why you should try

Most of the young parents would be very reluctant to bring their babies or kids to the movie or other performance events. There are various reasons for it, for example:


The kids will disturb other people in the movie (Comment: Not always and not certainly. But it's good to be prepared of different possible reaction of the kids see below)


Movie is not a place for kids / very small kids (Comment: Well, ideally, in this world, places should be as open as possible to babies and kids, then we have a very nice world and environment to live in. If most places in this world is not accessible to kids, then there's something wrong with this world, no?)


Too much hassle for us (Comment: It can be full of hassle, or not, depends on your perspective and mindset in the first place. For me, living without maid or extended family members outside Indonesia necessitated going everywhere with the kids, so my family needed to cope)


As far as the saying Each for their own, going to movie with babies or kids are something that you might want to try, since there are a few positive side of it. Firstly, at least in my case, outing to cinema is as much as possible a family event, it is really fun. Secondly, the outing to movie gives opportunity for the family to know and test their limit in small scale, and also may provides basic conditioning on similar situation such as traveling with children basically the more time you spend with kids in various situations, the more you know your kids' limit in those situations, and for the kids to get used to different places and venues for different events - not limiting what is possible to be done with kids, without testing it first.
Tips going to cinema with kids under 4 year old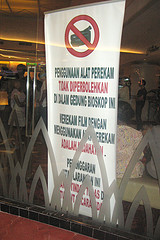 There are some key things that need to be paid attention to, particularly if you are going to the movie with kids under four year old. First, take notice of the movie synopsis. As much as possible, go to a more age-appropriate rated movie (PG), but for me personally, drama movie or documentary is still acceptable. A big no-no to movie with violence, you don't want to introduce your kids to such movie anyway! One thing to note, you might want to protect your kids from movie previews just before the movie begins because this one cannot be controlled.
Second, get the seat adjacent to alley / corridor and as close as possible to exit, so in the event of emergency (big scream, poopoo, change diaper) you can easily dash out.
Thirdly, breastfeeding really, really, helps. Especially, the darkness of the cinema really helped me to be invisible while breastfeeding. I just shoved my breast every time my baby gets impatient, even before the baby makes the smallest noise.
Different treatment for different age
So far it is the easiest to bring breastfeeding babies who cannot walk yet, because you can easily baby-wear them in the cinema, with sling, wrap, or carrier. And what they do is just sleep sleep sleep. You can easily enjoy adult drama movie in such situation.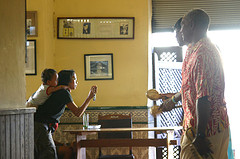 The most difficult is bringing babies / toddler who just discovered the joy of walking, or is in the cinema outside their bed time, because what they want to is walk walk walk, or run run run, instead of sitting nicely on your lap or conveniently sleeping.
But once it passed the 2 or 3 year old mark, it gets easier again, because by that time you can negotiate and persuade the child. At this time, communication is very important. Talk to the kid with as much information as possible about the cinema and the movie to be played. Also talk to the kid on what is the expected behavior in the movie. You might be surprised on how deep kids at such young age can understand what you're talking about, and how they're able to negotiate, and how they're able to follow the instructions set out earlier. Kids are really smart!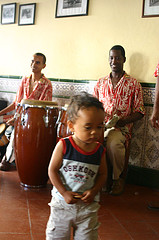 Is loud noise a concern? Well, so far as my experience, loud noise has never been an issue with my kids, but again, each kid is different, so it is very important for you to know your kids and provide flexibility for unpredictable situation that might arise from taking kids to cinema. It's true, you might possible have less fun compared to going to cinema without small kids, but hey, why not giving it a try first because the end result may not be that bad.
Anyway, this tips is also applicable for other events such as concerts etc. But most of the times the entry for this type of events is more restricted, so check first at ticketing whether it is possible to bring kids along. And if they say it's not possible, there's no harm to try to negotiate and persuade them, especially if you really know your kids' limit and that you are totally sure that your kids can behave properly. So far I took my 3 year old son to various cultural events around Jakarta such as jazz concerts or dance performance. Once, I had to persuade the ticket seller because I was totally sure that my son would behave properly in the concert. As a compromise, I chose to sit very close to exit door, but luckily, my son behaved really well during the concert that I didn't need to run out. At the end of the day, I got lucky to be greeted by the jazz artist because she really appreciated me taking kids to her concert, and it totally made my day!