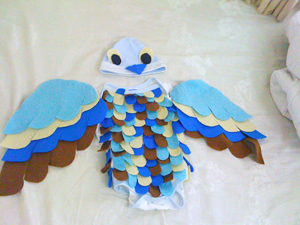 Awalnya saya bingung untuk mencari kostum bayi di bawah 12 bulan. Ada beberapa tapi kok mahal ya untuk dipakai sesekali saja. Akhirnya saya terinspirasi kostum yang dipakai Melon dan kostum burung ala Martha Stewart untuk membuat kostum burung dengan bahan-bahan sederhana.
Bahan yang diperlukan :



kain felt


gunting


benang


jarum jahit


pita karet


bodysuit berlengan panjang dan juga topi berbahan kaos


Caranya :


Gunting kain felt berbentuk menyerupai bulu (ujungnya bisa setengah lingkaran atau busur sesuai selera) dengan ukuran bisa lebih kecil, besar atau sedang disesuaikan dengan besarnya bodysuit / kaos. Saya memilih ukuran 4-5 cm untung pajangnya dan lebar 2-3cm. Susun guntingan bulu-bulu felt untuk memperkirakan jumlah bulu felt yang dibutuhkan. Jahit satu per satu felt tadi sesuai susunan warna yang diinginkan. Disini saya menggunakan warna biru tua, coklat, biru muda dan putih gading. Lebih banyak warna lebih bagus.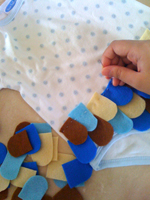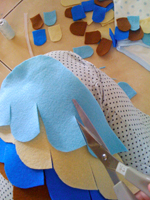 2. Gunting kain felt susunan warna sama seperti bulu namun dibuat bentuk sayap dari 4 ukuran dibuat berbeda. Saya membuat ukuran panjang dan lebar mulai 15-10, 20-12, 25-14 dan 30-16 cm. Besar sayapnya diperkirakan sesuai dengan besar lengan bodysuit. Lalu digunting ujung-ujung bentuk sayapnya supaya terlihat lebih 'bertekstur' tapi jangan terlalu panjang kira-kira 4-5 cm. Tumpuk paling atas sayap terkecil hingga paling bawah sayang terbesar. Jahit di belakang paling bawah sayap (semua sayap terjahit jadi satu). Tambahkan pita karet sesuai lingkar lengan anak yang nantinya dipakai jatuh ditengah lengan anak.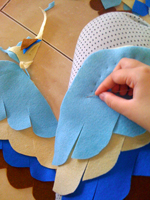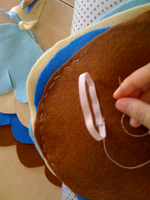 3. Bentuk mata dan paruh. Jahit di topi berbahan kaos.
4. Selesai kostum siap pakai!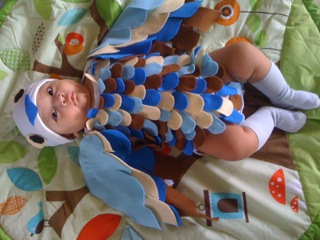 Post a Comment
You must be
logged
in to post a comment.