so, it's official… the best lunch so far is a homemade pizza. not only it tastes great, but also aina can join the cooking process… although all she does is munching on the ingredients…
it's a fake pizza, because i didn't really use pizza dough. but it takes only about 5-10 minutes to make. fun and quick!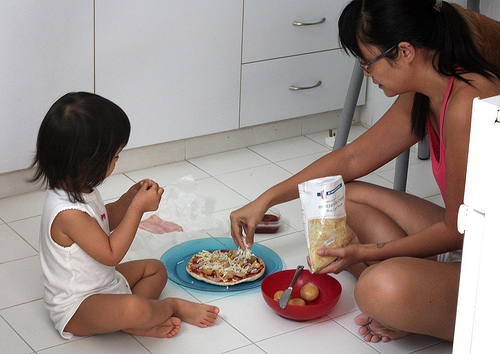 ingredients:
2 pieces of onion breads/pocketless pitas.
2 tbsps tomato paste
fontina/mozzarella cheese
any toppings you want: canned mushrooms, ham, sausages, brocolli… anything!
you can also sprinkle any herbs you like: thyme, dill, rosemary… anything that fits your taste.
to prepare:
preheat oven to 225 degrees Celsius. spread the tomato paste on to of the onion bread or pita. add your toppings of choice, as much as you want. sprinkle the cheese and the herbs on top of the toppings.
lay the bread on top of a baking sheet or aluminum foil. then bake it for about 5 minutes, until the cheese is all melted. yummy!