Fried Bread With Beef and Melted Cheese
Saya suka sekali membuat roti goreng ini. Selain gampang, keluarga di rumah juga menyukainya.
Bahan: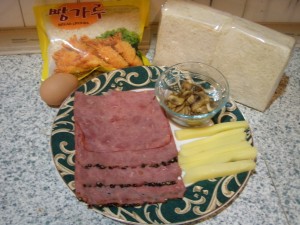 roti tawar kupas.


beef pastrami/smoked beef.


mozzarella cheese/keju quick melt.


1 butir telur, dikocok.


bread crumb.


dan menyontek dari modifikasi Ann Bundanya Diba, bisa ditambah dengan jamur champignon yang sebelumnya ditumis dengan butter, garlic powder, garam, dan merica.


Cara membuat:


Pipihkan roti tawar dengan menekannya dengan menggunakan sendok atau rolling pin (atau bisa juga menggunakan gelas).


Letakkan pastrami dan mozzarella di ujung permukaan roti, kemudian gulung. Agar keju tidak meleleh keluar pada saat digoreng, rekatkan kedua ujung gulungan roti dengan menekan-nekannya. Sebagai variasi, bisa juga dimasukkan jamur sebagai isi roti.


Setelah digulung, celupkan roti ke dalam kocokan telur, kemudian gulingkan di atas bread crumb.


Goreng dengan api sedang.


Dan jadilah
Fried Bread with Beef and Melted Cheese
:)