Happily Breastfeeding in Public
Yes, mama... we can breastfeed our baby in public. I know that some of newly breastfeeding mamas worry about how they will deal with their baby's need to breastfeed when they are not at home. Worry not, girlfriends. Here's what we can do:
1. Feel comfortable and relaxed.
2. Wearing two-piece outfits.
That's it!
For me, breastfeeding is a natural thing for a mother and a baby. We can do it everywhere. There's no reason to be ashamed. You're giving your baby the best of you, so you should be proud. I do breastfeed my 3 mo son, Arzachel, everywhere. In bus, MRT, foodcourt, nursing room. Everywhere.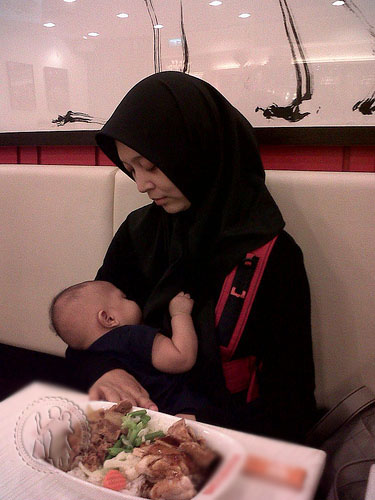 Ps:
- You can wear nursing t-shirt or shawl to make you comfortable breastfeeding in public.
- If someone is staring at you, the best thing to do is to return their gaze without backing down. This will usually cause them to look away.