Kebaya Putih Kompak dengan Lana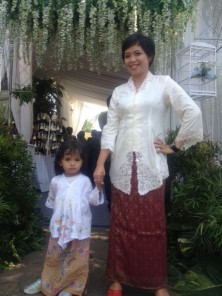 Beberapa hari yang lalu, saya dan Lana menggunakan kebaya putih di acara resepsi pernikahan kakaknya suami. Saya dan Lana kompak ingin pake kebaya putih. Kebaya yang saya pakai adalah kebaya seragam dari panitia pernikahan kakak ipar, sementara Lana memakai kebaya hasil hunting saya dan Iyay di Butik Djene, Bogor.
Ternyata anak kecil memakai kebaya itu lucu sekali ya! Jadi ingat saat saya masih TK dulu kalau ada acara hari Kartini dan 17 Agustus senang sekali pake kebaya, seperti bukan anak kecil lagi.
Post a Comment
You must be
logged
in to post a comment.