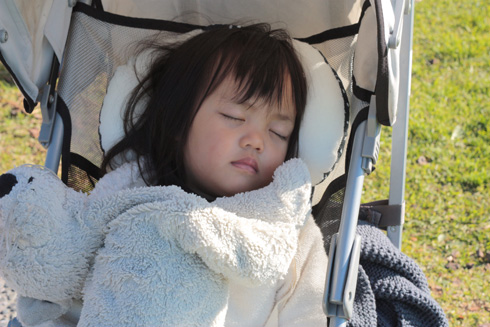 The Maclaren Volo is the perfect stroller for our family and our lifestyle. We don't have a car, so we walk a lot and take public transportations all the time.
After a month of consideration, we finally bought the stroller when Aina had just turned 1 year old. Our requirement checklist at the time was:



as light as possible. aina's Volo is the 1997 one, which is lighter than the current version: 3.6kg.


public transportation friendly. i should be able to hold aina in one hand and carry the stroller AND diaper bag when i take the bus by myself (Volo's shoulder strap helps!). and i should be able to open and fold the stroller with one hand while holding aina with the other.


mesh seating for the weather in singapore. the seat of aina's stroller prior to Volo is fabric. and when she's sleeping, she'd be soaked in sweat due to the humid weather.


rain gear included. but i guess most strollers include rain gears.


one-hand steering - this is important during the rain. we get caught in the rain a lot, so i need to hold an umbrella and steer the stroller at the same time. and Maclaren is pretty famous for its steering-goodness :)


neutral color. no pink or blue ;)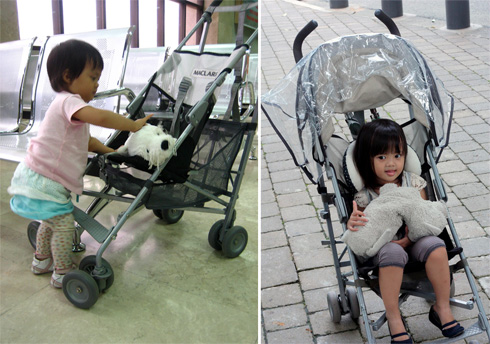 the only problem with Volo is that it can't recline, which means it's not very comfortable to sleep in and babies younger than 6 months can't use this stroller. the biggest problem with non-reclined stroller is that the kid's head keeps falling off the side when asleep. to prevent this, i bought a brandless baby head support and pin it to the back of the stroller like the picture below. it really helps when aina sleeps.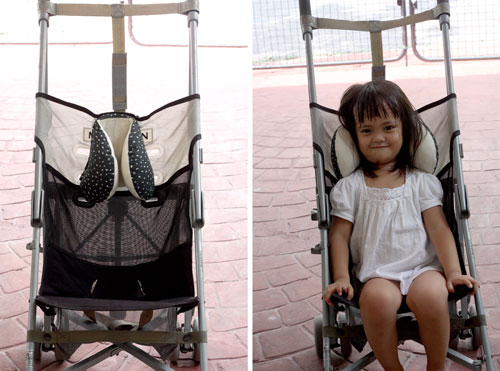 the Volo has been with us for almost 2 years now, being used daily and has very high mileage. it's been through the heat and rain of tropical weather and it's also been to the winter wonderland of New Zealand. so far, it still works like a charm.
so, if you have a similar lifestyle to ours, i would totally recommend the Maclaren Volo. it's a little pricey compared to the other umbrella strollers, but the durability and the ease-of-use make it all worthwhile :)