Moo Moo Kow, A Diaper That Grows With Your Baby
Ninit:
When I received Moo Moo Kow cloth diaper from Abby, I was so excited! Abby sent me a nice one size aplix in sage. Honestly, Moo Moo Kow is the third cloth diaper that I tried to my son, Arzachel. So, I was so curious about Moo Moo Kow. Moo Moo Kow is from Singapore but you can find it in several countries in Asia (including in Indonesia, of course!). One size fits all! from 3kg to 18kg, so it fits perfectly to Arzachel (9kg).
First Impression:


First of all, I love the name! Moo Moo Kow. Catchy! It is said, Moo Moo Kow is a diaper that grows with your baby.


I love the package. Very nice and simple.


There are two different size of microfiber inserts are included in the package, 1 infant and 1 toddler size.


The cloth diaper is superb! Look very nice and very neat. Love it!


What I Love About Moo Moo Kow:


The inner is made of soft suede. Very comfortable for baby's skin and easy to clean.


The soft elastic gathers are fantastic. Arzachel is very comfortable in this cloth diaper. His skin has no problem with the leg elastic.


Arzachel usually wears Moo Moo Kow at night. The cloth diaper works very well. No leaking for 4-5 hours, it is because the fitting around the legs is superb. I'm really happy about it.


What Can Be Improved:


It takes time to put insert neatly. It would be easier if the shape of the insert is like a glove.


Would be really nice if printed design is available.


Summary:


The price is reasonable.


Good quality.


Honestly, I'm not a fan of aplix but I change my mind instantly when I try Moo Moo Kow one size aplix. Very easy to use.


Over all, Moo Moo Kow is my favorite cloth diaper so far! I'm happy and satisfied.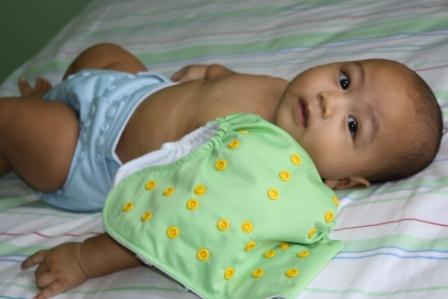 Otty:
The Story:
My journey with Moo Moo Kow diaper began end of last year, as I was searching for a diaper that (I hope) would fit my 5 month old baby. He's a heavy wetter, has chubby thighs and big stomach, and likes to move around on the mattress.

So I did my homework and found this brand. It has all the features I need, and better yet, the price is very affordable. With all the plus, I bought 2 diapers though I've never heard of the name before.

I waited for the diapers to arrive... Excited and nervous at the same time, for I've never used reusable cloth diaper before. After the diapers arrived, it's quite a torture to wait until 3 times of pre-wash. But I did, and tried them on my son after the 3rd pre-wash.
What I Love About Moo Moo Kow:


And I just love them. I'm not trying to sell anything here, I'm simply sharing my experience.


The diapers come with two inserts so I don't need to buy additional one; the suede inner cloth is soft and doesn't feel too damp after long hours of diapering; the elastic band fits my son's chubby thighs and keeps pee/poop where it belongs.


What Can Be Improved:


The only thing I find quite annoying is that moo moo kow diapers don't come in prints!


Summary:


I use the diapers for day and night (with 2 inserts) use and have no complaint so far. I'm still using them and recommend the brand to my friends.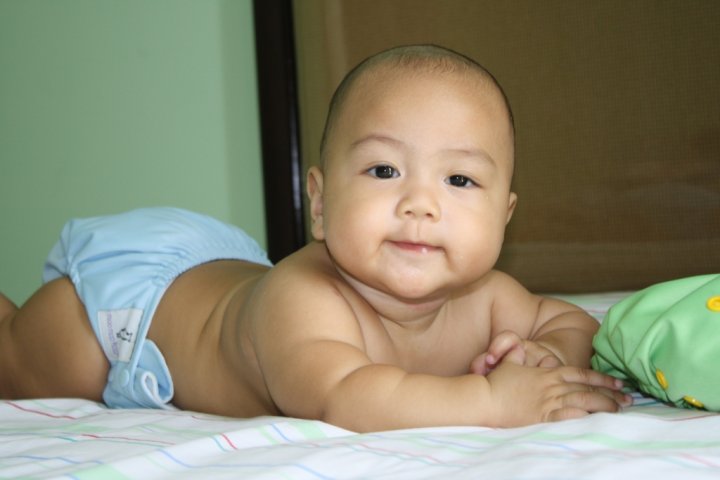 Amelia:
Saya mengenal cloth diaper Moo Moo Kow ini dari banner yang terpasang di sisi kanan homepage The Urban Mama, apalagi dua buah clodi MMK yang saya miliki memang hadiah dari TUM Go Green Campaign yang pernah diadakan oleh The Urban Mama.

Kelebihan:


Cuttingnya lebar sehingga ketika dipakai dari belakang tampak seperti celana pop yang "membungkus" bagian belakang.


Untuk tipe velcro ada laundry tab yang mencegah clodi saat direndam "nyangkut" dengan clodi lainnya.


Ketahanannya dengan 1 insert cukup mengagumkan karena bisa tahan selama 4 jam. Tapi hal ini tergantung dari jumlah si anak pipis menurut saya.


Snap yang cukup kuat sulit dilepaskan oleh tangan "jail" yang penasaran dengan kancing. :)


Outernya cukup trim, mungkin pengaruh dari material suede yang digunakan. Dan meskipun hampir enam jam digunakan saat diraba pun kering tanpa kelembapan yang berarti.


Bagian mulut untuk memasukkan insert dijahit dengan rapi sehingga terlihat seperti bukan model "kantung" tapi sepintas seperti AIO.


Kekurangan:


Karena tidak dipakai dari kecil (dari newborn), saya merasa bagian lingkar pahanya sangat ketat sekali karena baru sekitar satu jam pemakaian lingkar paha Aira sudah merah dan berbekas (bukan ruam tetapi merah seperti bekas diikat). Bahkan saat dipakai sekitar enam jam, bekas merahnya baru hilang setelah seharian.


Untuk memasukkan insert cukup memakan waktu, sehingga dalam kondisi terburu-buru posisi insert bisa berantakan.


Insert sangat panjang sehingga selain sulit memasukkannya juga terlihat bulky. Untuk pemakaian MMK saya tidak pernah "tega" menggunakan double insert. Atau hal ini mungkin disebabkan memang bokong Aira yang pada dasarnya sudah "nonggeng" jadi ketika menggunakan clodi pun akan lebih terlihat nonggeng.


Keseluruhan:


Saya puas dengan MMK ini, hanya masalah lingkar paha saja yang masih cukup ketat sehingga sampai saat ini saya hanya memakaikan MMK ini maksimal 3 atau 4 jam saja untuk mencegah sulit hilangnya tanda merah di lingkar paha Aira.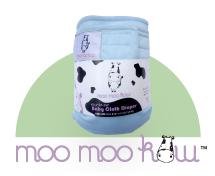 Urban Mama ingin mendapatkan clodi dari Moo Moo Kow? Yuk ikuti quiznya! Dan inget untuk follow twitter kami di
@theurbanmama
.
1. Akan ada 5 pertanyaan yang harus urban Mama jawab. Pertanyaan akan ada di Facebook dan Twitter.
2. Klik button "LIKE" di
facebook.com/theurbanmama
, kalau belum, jawaban tidak sah.
------
Jadi untuk urban mama yang masih bertanya-tanya tentang MMK, sebaiknya menggunakan MMK ini sejak newborn/kecil saja sehingga karet lingkar paha-nya mengikuti pertumbuhan baby.
*foto model: Nara.