My (not so) Baby Girl's 9th Birthday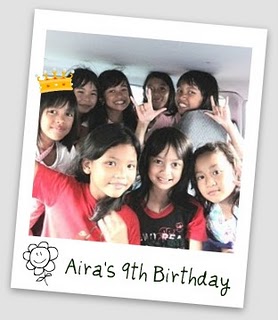 When Aira turned 5, I made a promise to myself (and hubby) that I would stop celebrating her birthday, until she's 17. Since then, I already broke that promise 3 times, and about to broke it again. We celebrated her 6th at my mom's place, 7th at her school, 8th was a pool party inviting family & neighbours. On my defence, this year was pretty small, only some of her closest friends from school.
I love planning for birthday party, specially a small one, and for my (not so) baby girl I made sure that it was a fun one. This year she turned 9, on 3rd grade, had her own peer group, listening to Justin Beiber & Lady Gaga, so clown won't impress her anymore. So I, suggested by my best friend (& practically Aira's godmother) Syarin, decided to take her & her friends to watch a movie at Subtitles. Why Subtitles? So it would feel more like a party, not just a regular going-to-a-movie outing. They can choose the movie from Subtitle's dvds collection & watch it in a private room. How cool was that? Very! Yes, very cool for a bunch of 9 years old girls. Hah! :D
Next on my list was goody bags. I know, she's 9, but I just couldn't stop my self. So I prepared 8 bags of 'age appropriate' goody bags filled with small but fun things like a pack of paper for folder refill, a fan, pencils, a box of 6 colors pens, various shapes of paper punchers, an eraser, & a wrist band. I was right, they loved them.
I asked Aira to tell her friends to ask for their parent's permission. But then I decided to gave them an invitation explaining to the parents about this 'party', that I would pick the kids up at school, take them to movie & lunch, & drive each one of them home.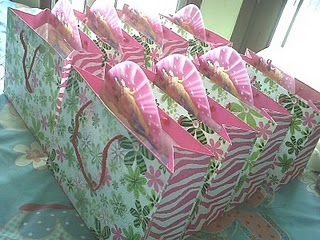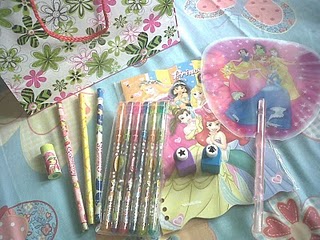 It was Friday, Hubby & I picked Aira up & 7 of her friends at school, they had already changed out of their uniform & we cramped them in our car. It was pretty crowded, but they didn't mind. They asked hubby to changed the radio channel to their favorite station, & sang along. When we arrived at Dharmawangsa Square, hubby dropped us off at the lobby & I got people staring at me, walking with 8 noisy 9 years old girls behind me, with matching wristband from the goody bags on their hands. Aira leading the bunch with a crown headband on her head.
We went to the basement & entered the cool Subtitles area. That was when the 'oohs' & 'aahs' began. First when they entered the reception area with white tiles, bright lighting, mirrors, & the futuristic feel the room gave. Then when they were asked to choose the movie on an online computer. Next when they curiously checking out the dvd rack & the guy on the counter showed them how it move ups & downs. And finally when they were taken to their private mini theater with red velvet seatings, big screen & sound system to watch their movie, Nim's Island. I ordered hot dogs & fries via the phone in the room (another 'ooh') & wait outside with hubby.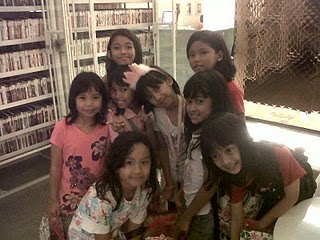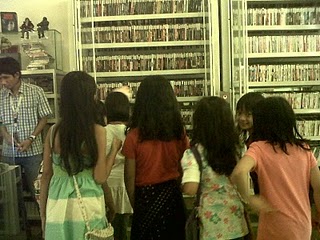 It was so much fun. Aira was so happy & her friends had a great time. They couldn't stop chattering on our way home. Even Subtitles was happy about our visit too, they gave Aira a voucher as a gift when they found out it was her birthday. And how I knew that her 9th birthday celebration was a cool one? Aira got 2 other birthday 'private party' (including pick up at school & ride home afterward) invitation from her friends. Her was the first. Happy birthday, little Ace. :D