Fayra, my 21 months old girl, loves to snack. She would carry her bowl around the house and spilling things everywhere, leaving me to clean up her trail of food and crumbs.
One day, a friend recommended a Universal Gyro Bowl through her twitter, and I thought, "Hey, this might solve my problem!"
And it did. Fayra loves her new bowl and I can give my broom a break :) With the Gyro mechanism, the chance of the bowl getting tipped over is much smaller.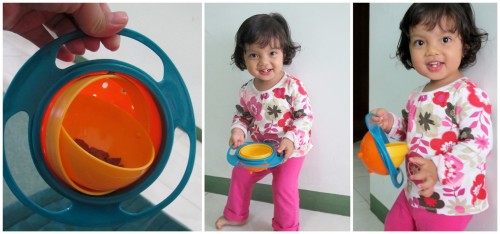 Features:



Comes in bright colors with unique shapes like UFO.


With the gyro mechanism, the food is less likely to spill because the bowl will always face up.


Three holes for handles so it's easy to carry.


Comes with an easy-to-open lid.


The inner bowl is removable for easy cleaning


PP environmental protection material, food grade material.


Can not be used for microwave ovens.


Ideal for snacks, biscuits, crackers and cookies. Not recommended for liquid.


Height: 7cm, diameter: 17.5cm


This bowl is prefect for trips, because it allows children have a meal inside a moving car.