Oatmeal Banana Almond Cookies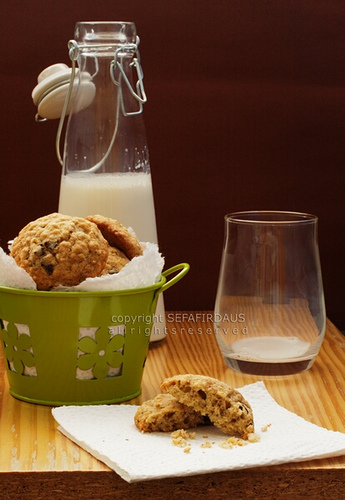 Kukis yang satu ini bukan hanya enak tapi juga sehat dan cocok banget untuk camilan sekeluarga. Suami yang gak suka kue kering aja ternyata suka dan selalu minta saya untuk membuatnya. Hmmm, jadi gak sabar pengen Kareem satu tahun biar saya bisa buatin oatmeal banana almond cookies ini buat dia.
Penasaran sama rasanya? Yuk ikutan buat!
Oatmeal Banana Almond Cookies
Recipe from Martha Stewart's Cookies, The Very Best Treats to Bake and to Share through Vania, Dita and Elsye and modified by me
Ingredients:


1 cup all- purpose flour.


1/2 cup whole wheat flour.


1 tsp coarse salt.


1/2 tsp baking soda.


3/4 cup (1 1/2 sticks) unsalted butter, room temperature.


1/2 cup granulated sugar.


1/2 cup packed light brown sugar.


1 large egg.


1 1/2 tsp pure vanilla extract.


1/2 cup mashed ripe banana (about 1 large).


1 cup old-fashioned rolled oats.


8 ounces semisweet chocolate flakes (original recipe use: 8 ounces semisweet chocolate, coarsely chopped into 1/2 inch chunks (~224 gr)).


1/2 cup coarsely chopped almond (original recipe use: 1/2 cup coarsely chopped wanuts (about 2 ounces)).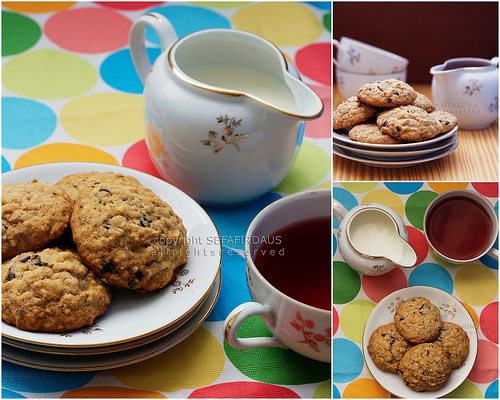 Method:


Preheat oven to 375 F. Whisk together both flours, salt and baking soda in a bowl.


Put butter and both sugars into the bowl of an electric mixer fitted with the paddle attachment; mix on medium speed until pale and fluffy. Reduce speed to low. Add egg and vanilla; mix until combined. Mix in banana. Add flour mixture just combined. Stir in oats, chocolate flakes, and almond.


Using a 1 1/2 inch ice cream scoop, drop dough onto baking sheets lined with parchment paper, spacing about 2 inches apart. Bake cookies, rotating sheets halfway through, until golden brown and just set, 12-13 minutes. Let cool on sheets on wire racks 5 minutes. Transfer cookies to wire racks; let cool completely. Cookies can be stored in airtight containers at room temperature up to 2 days.


Makes about 3 dozen.