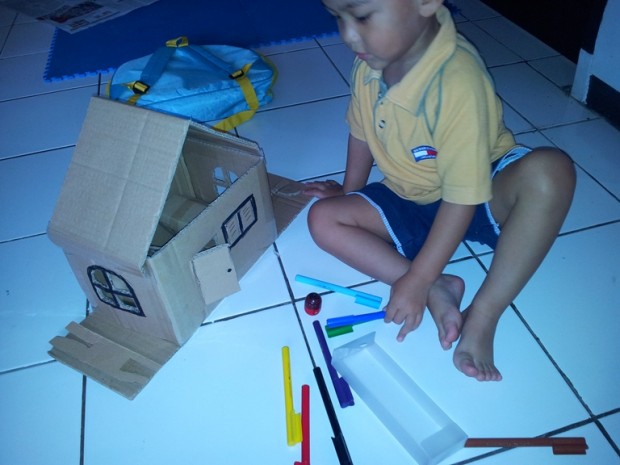 Punya anak balita membuat saya harus putar otak terus setiap hari. Kegiatan apa yang yang asyik untuk dilakukan bersama anak hari ini. Saya sih inginnya Lian (3 thn 1 bln) bisa belajar hal baru setiap hari.
Kebetulan Lian belum terlalu tertarik para corat-coret mewarnai. Nah karena di rumah banyak kardus bekas, saya punya ide untuk membuat rumah robot bersama, karena kebetulan Lian juga mulai mengenal robot-robotan.
Alat dan bahan:



Kardus bekas


Lem pva


Selotip


Gunting


Cutter


Spidol


Saya membuat pola rumah-rumahan sederhana di atas kardus, kemudian menggunting dan merekatkannya satu sama lain. Selain bahan-bahan dasar di atas, bisa ditambah bahan-bahan kreatif lainnya untuk menghias. Tapi karena ide ini datang mendadak dan tidak punya banyak bahan macam-macam di rumah, jadi saya membuatnya sederhana saja.
Pembuatan rumah robot sederhana ini cepat sekali, apalagi melihat Lian yang semangat sekali ingin ikut membantu memegangi bagian tembok rumahnya saat dilem dan juga ikut-ikutan tempel selotip.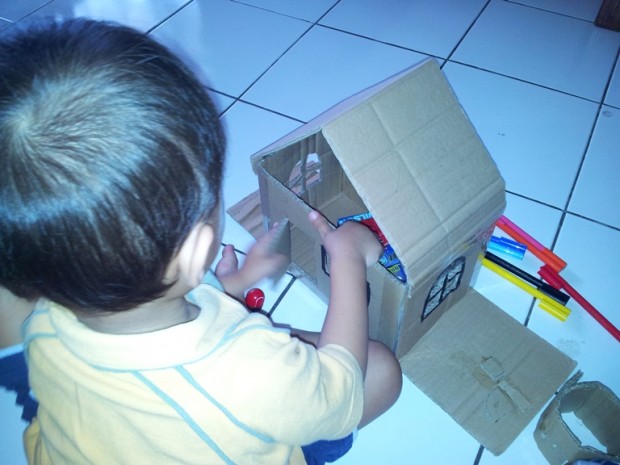 Lian juga belajar pake gunting. Yang paling menyenangkan, Lian sudah benar-benar sadar kalau sedang memegang gunting ia harus berhati-hati. Lian juga belajar bagaimana posisi gunting saat saya minta tolong ia untuk mengambilkan gunting. Yang terpenting, saat proses pembuatan rumah robot sederhana ini, saya berhasil menyelipkan beberapa pelajaran ke Lian. Wah jadi tidak sabar ingin membuat beberapa proyek prakarya lainnya bersama Lian.
Post a Comment
You must be
logged
in to post a comment.