Everyone in the family loves pancakes and waffles. Ninit and I however, hate the price. I am talking about those ready mix pancakes that are sold in supermarket. Most of the good ones are imported and the local ones are honestly not that nice. The ones sold in restaurants are even more expensive.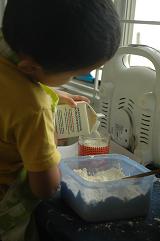 So we browsed for some recipe. After experimenting a few times we found the most suitable one. Unfortunately we lost the original link to the website. Hence we must advise that the following recipe is not from us but from a certain website from the internet.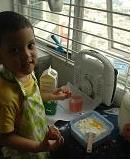 Ingredients



1 1/2 cups all-purpose flour.


3 1/2 teaspoons baking powder.


1 teaspoon salt.


1 tablespoon white sugar.


1 1/4 cups milk.


1 egg.


3 tablespoons butter, melted.


Directions



In a large bowl, sift together the flour, baking powder, salt and sugar. Make a well in the center and pour in the milk, egg and melted butter; mix until smooth.


Heat a lightly oiled griddle or frying pan over medium high heat. Pour or scoop the batter onto the griddle, using approximately 1/4 cup for each pancake. Brown on both sides and serve hot.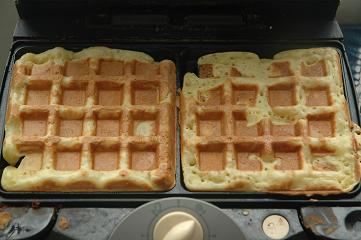 The best way to make pancake or cooking in general is to involve the children for the following reasons.



Practice soft motoric skills. "Alde, don't spill the flour yaaa." More importantly, guiding himself operating hot pans or knife. Under supervision of course.


Practice mathematics. Learning decimals "Help me with 1.5 cups of milk." Or when older, "Give me 300 grams of X and 125 grams of Y"


Aldebaran is abit choosy when it comes to eating. However, we learn that Aldebaran always eats and finish every meal that he made himself. From cutting melons to elaborate pancake mixing,


For me this is one of the better bonding methods with the kids.


This is most important: life skill. Let's say parents are late and noone is home. He can help himself with something to eat.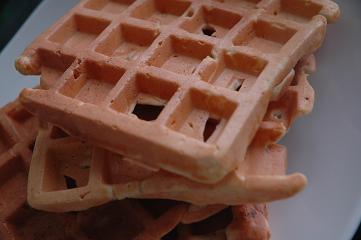 Topings are optionals. From a simple maple syrup to ice cream etc etc, there is no end to the possibilities.
Enjoy the recipe.