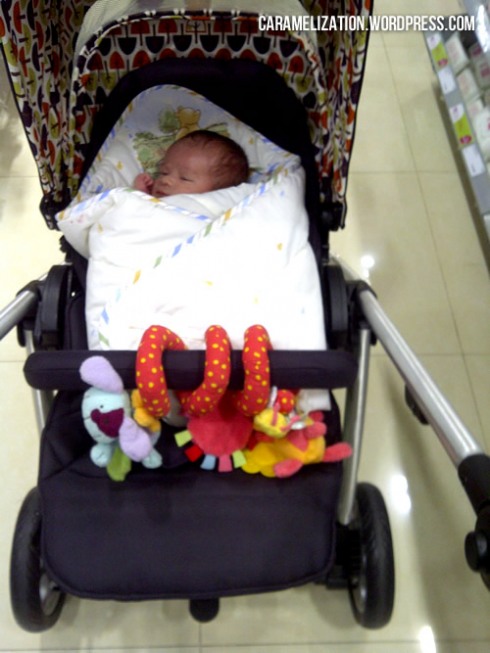 Surprisingly, quite a lot of people asked me about the Sola stroller. So here's an honest review from a satisfied customer.
The first time I looked into strollers, I wanted a super-stylish looking one. Either the Silver Cross Surf or the Stokke Xplory.
I fell in love with the way they look. As well as with MacLaren XLR, Bugaboo Bee - but somehow, none of the strollers finally became the first stroller for my newborn baby Louis.
I love the Sola buggy the moment I laid my eyes on it.
It's sturdy, modern, stylish and just beautiful. A bit big – 8.5 kg altogether chassis and seat, but it's so pretty and it looks so comfortable for a baby. Super friendly price as well (almost half the Xplory/Surf). I had no second thought – I just bought it (in Truffle) and a few days later it arrived at my office, all wrapped up, ready to be opened like a huge Christmas present.
And so far, we've been happy. At first, Louis's daddy said that it was a bit too much, taking up a lot of space, but as we also have the Peg Perego Pliko Mini for comparison (gift from my cousins – review on the P3 later on in another article) and even though P3 Mini is kind of practical, Sola is much better in maneuver, sturdiness and comfort.
Louis also loves his Sola! Most of the time he's riding on it, he stays calm and happy.
Mamas & Papas Sola
Plus Points:



Sturdy.


Comfortable for baby.


Can be used from newborn (total recline) up to 25 kg (approx 4 years old).


Stylish.


Colorful.


Great maneuver.


Seat can be taken off and the sales lady said it could be used as a carseat – we've never tried it though, since Louis has another carseat already.


Friendly price.


Raincover is big and covers everything.


The basket under the seat used to put things is also quite big.


Minus Points:



A bit heavy, 8.5 kg total weight.


Chassis is kinda big even when folded.


It's not an umbrella stroller so not folded easily with one hand – you have to use both hands.


Taking up quite big place – you need a car with a big trunk to bring it everywhere.

But so far, we've been VERY HAPPY with Sola. It also exists in several super pretty colors.
Post a Comment
You must be
logged
in to post a comment.