Yudhistira Juwono
Selasa, 22 Desember 2009
for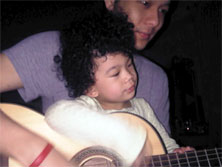 Kata Brenda (Mamanya Vanya), saya dan Vanya mempunyai sifat yang sama. Jadi sudah jadi pemandangan biasa bagi dua orang yang punya sifat sama yang ada dalam satu atap, bawaannya selalu berantem. Mulai dari rebutan nonton TV, rebutan makanan sampai rebutan siapa duluan yang mandi.
Kondisi ini juga yang membuat saya harus ekstra kreatif ketika setiap harinya harus gantian dengan Brenda untuk jaga Vanya. Berhubung kita berdua pedagang, jadi mau tidak mau kita buat perjanjian untuk gantian jaga. Kalau pagi Vanya sama Mamanya, berarti siang gantian saya yang jaga. Begitu pula sebaliknya.
Kebersamaan dengan Vanya inilah yang menjadi satu cobaan sekaligus kenikmatan yang saya syukuri setiap harinya.Tapi sebrutal apapun hari yang kita jalani berdua, ada satu momen yang selalu saya nikmati berdua dengan si keriting nan lucu ini. Momen setelah kita berdua sampai di rumah, selesai mandi dan makan.
Momen dimana Vanya sudah mulai kehabisan baterei dan sadar hanya bapaknya inilah yang bisa diandalkan menidurkan dirinya. Biasanya sambil menunggu Mama, kita berdua mempunyai rutinitas untuk baca buku atau main gitar berdua. Satu-dua buku atau lagu kemudian saatnya bilang Vanya untuk berdoa dan tidur. Dan sambil mengaruk punggungnya, keluarlah kata yang selalu saya syukuri masih keluar dari mulutnya yang lucu itu.."goodnight daddy, sleep well"
Post a Comment
You must be
logged
in to post a comment.