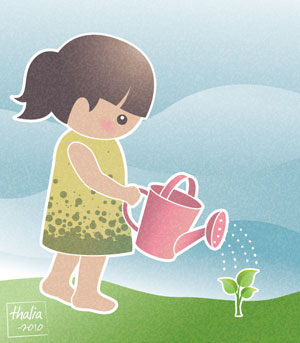 Globally today, between 8:30 p.m. to 9:30 p.m. local time, an event called "Earth Hour" organized by WWF is held all over the world, asking households and businesses to turn off their non-essential lights and other electrical appliances for one hour to raise awareness towards the need to take action on climate change. Though we love the idea, we thought we can do more than just 1 hour to save the earth and we should start from our daily parenting routines.
So last week, we held a campaign called "TUM Go Green" where we asked our forum members to submit their simple & unique ideas on how to contribute to our responsibility towards "saving the earth". We received tremendous amount of ideas and they are really really good! You may check them all here. It gave us quite a hard time to pick the winners. So after a few days going back and forth looking at everyone's submissions, we finally reached a final decision .. and here are the winners:

#1 myaiRa

"Sebelum melahirkan -- waktu pengajian 4 bulanan kehamilan -- souvenir pengajian yang dibagikan adalah bibit/pohon gelombang cinta yang masih pitik kecil dengan harapan baby yang saya kandung membawa gelombang cinta bagi dunia ini, salah satunya dengan menambah jumlah pohon yang bisa ditanam para ibu-ibu di daerah rumah saya.

Setelah melahirkan baby aiRa dan mengadakan pengajian 40 harian serta syukuran akikah (potong kambing bagi umat muslim) saya membagikan bibit bunga matahari dengan harapan baby aiRa dapat menyinari kehidupan serta membawa terang/manfaat bagi dunia.

Dan setiap tanggal kelahiran baby aiRa, saya membelikan baby aiRa berbagai macam pohon tabulampot yang saya sumbangkan ke balai warga untuk dirawat dan membuat balai warga jadi semakin hijau dan asri...."
Prize: 2pcs of MooMoo Kow diapers (with inserts), IDR 250K gift certificate from Nenen Baby Shop, and IDR 100K gift certificate from Bunacacha Shop

#2 rooslain
"Saya berencana mengenalkan permainan yang tidak menggunakan batre & tenaga listrik seperti layangan, gangsir, lego, serta sering-sering mengajak bermain di luar rumah: kebun, taman."
Prize: IDR 250K gift certificate from Nenen Baby Shop and an IDR 100K gift certificate from Bunacacha Shop

#3 meralda
"Saya memakaikan anak saya cloth diaper untuk mengurangi sampah harian saya. Sejak kecil saya juga mengajarkan Gilby untuk tidak buang sampah sembarangan, serta memisahkan antara sampah kering & basah.
Pada ulang tahunnya ke-1 nanti saya mau membelikannya sepeda mini, agar ia selalu tertarik untuk menggunakan sepeda dan mengurangi polusi di Jakarta."
Prize: IDR 100K gift certificate from Bunacacha Shop

Congratulations to all the winners! Hope all of you continue to practice the "Go Green" campaign in your daily routines. "Go Green" for a better future.

Thanks for all the members who have participated. All of your ideas are great and interesting too and they are equally important as part of our responsibility to keep our earth "green". You may continue submitting your ideas here as we will continue to support this campaign all year long.

Also big thanks to our sponsors for this month's contest - MooMoo Kow Diapers, Nenen Baby Shop and Bunacacha Shop.
Post a Comment
You must be
logged
in to post a comment.