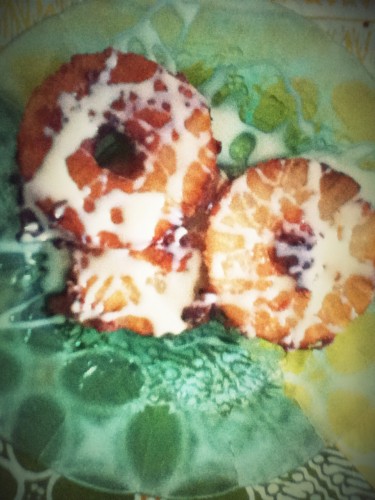 I can tell you straight up - this is flat easy! Just substitute banana for pineapple with a packet of readily available flour for fritters.
Taste: Oh so sweet with a burst of tangy pineapple in every bite.
Texture: Crunchy on the outside. Serve while hot.
Ease: Eazy Peazy!
Ingredients:



Generic brand of pineapple (trust me-they taste the same). Usually it's watered in heavy syrup.


2-3 tablespoons of readily mixed flour. I use Sasa but any brand made for frying fruit fritters should be fine.


A swirl of sweet condensed milk. I use Frisian Flag.


Oil for cooking


Here's how:


Drain the pinapples from the heavy syrup and make sure there's as little syrup in the pineapple (but don't go too far by drying them with tissue).


Mix the Sasa with water until it thickens but not too thick. Make sure it's not runny.


Dip the pineapple and deep fry it until golden brown.


Place them nicely and drizzle or swirl condensed milk on top for a sweet finish.


Enjoy!
Post a Comment
You must be
logged
in to post a comment.