The New Beginning
Monday, 21 March 2011 0:01:36
Is it true that when you're pregnant, you have to double your food intake, because you're eating for two?
Do spicy foods cause miscarriages?
Is it safe to eat fish during pregnancy?
If you are pregnant or planning to become pregnant, discover what to expect during pregnancy period, help you to make wise decisions, and increase chances for a happy and healthy outcome.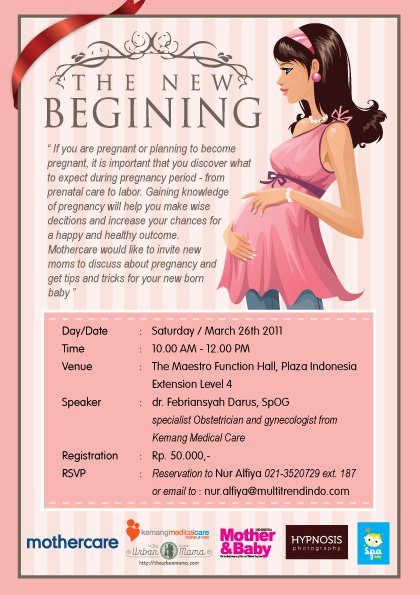 Find everything about pregnancy and get tips and tricks for your new born baby with Mothercare at:
Mothercare's "THE NEW BEGINNING" SEMINAR
Day/ Date: Saturday, 26th March 2011
Time: 10.00 AM – 12.00 PM
Venue: The Maestro Function Hall, Plaza indonesia Extention level 4
Speaker: Dr. Febriansyah Darus, SpOG (Kemang Medical Care)
Registration: Rp. 50,000,-
RSVP to Nur Alfiya 021-3520729 ext. 187 or e-mail to [email protected]
Making your life partner into your pregnancy partner can make a big difference in how much you enjoy your pregnancy.
Pregnancy can be the most wonderful opportunity to bring a couple together as a solid team. When men are given the means to assist, pregnancy can make the relationship between that man and his pregnant partner exceptionally strong — strength a couple will need when baby arrives!
Post a Comment
You must be logged in to post a comment.