Wonderful Hypnobirthing Experience
Monday, 26 December 2011 0:01:46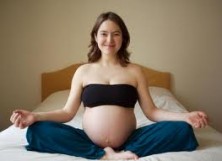 I firstly knew the term of hypno-birthing when my friend shared her delivery experience. She said, by practicing it since she was 3 months pregnancy, the delivery went smooth, the contraction pain was relatively bearable, and her baby was practically pretty calm afterwards. Felt interested, I intended to use this method in my pregnancy later.
After two stripes appeared in my pregnancy test stick, I started to do the search of hypno-birthing books.  Some of my friends recommend "Melahirkan tanpa rasa sakit" written by Evariny Andiana, as it is an easy reading book. Since I live in Sydney, Australia, I finally bought this book when I went back home to Indonesia in my 6th month of pregnancy. Well, it is an easy reading book, with practical daily what-to-do guidance. I really wanted to be able to practice it everyday at home. Unfortunately, my stacks of readings and assignments for my master course study un-enabled me to do it. So I just did it twice to three times a week.
In overall review, the core of hypno-birthing method is to embed positive suggestions into our subconscious mind. It can be done by imagining and visualising the exact thing we want to be happen during our delivery process with a short and clear words, and by communicating with the baby too. In every time of my practice at home, I tried to imagine that my delivery process will be, insyAllah, easy, fast, and smooth. Remembering that the due date of the baby is only some days different with the due date of all my final assignments, I kept talking to the baby to come after all my assignments done, at least after all the classes finish. In the mean time, I tried to finish those assignments and writings as soon as possible, just in case the baby want to born earlier than the expected due.
Alhamdulillah, results are actually gained from my routine practice. I practically had no problem with the Braxton Hicks contraction (false contraction) in the end weeks of pregnancy. My baby boy, Arthas, was born in the 38th weeks of pregnancy, exactly 2 days after the last class was held – although I was partly wishing he would come after all my assignments submitted. But, hey! At least he was born after my classes finish, so I didn't have to purposely miss them.
The delivery process itself was very smooth, Alhamdulillah. I had my first contraction at around 2 am in the morning, and even I didn't recognise that it was an actual contraction by that time. I just felt that I couldn't sleep because of back pain. I started to fell asleep at 5.30 am because I was too tired then awoke at 7 am because my water broke. I called the hospital afterwards to report my condition. By that time, the contraction was already regular with 3 times per 10 minutes. I was told to wait and observe the contraction at home, and was asked to call the hospital again in 2 hours time or if there was an increase in the contraction's frequency. I was still able to take a hot shower, had some milk, and ensured we take everything needed for the delivery. 15 minutes later, it was already 4 contractions in 10 minutes. I called the hospital again then my husband and I went straight to the hospital.
The head of midwife in charge that day met us in the hospital. She did an internal examination on me at 9.30 am, and Alhamdulillah it was 3 cm opening already. The contraction was still adding up, but unbelievably, I was able to smile and chat with my husband. Contraction monitoring was then continued per 2 hours. By 14.30, I had my next internal examination and it was already 5-6 cm opening. The contraction was getting intense, so I tried to focus in praying Al'fatihah in every contraction and held my husband's hands. The midwife assigned started to offer anesthetic drug options to help with the pain. As I already intended not to use epidural during my delivery process, I decided to use NO2 gas instead. It has a temporary effect because it just needed to be inhaled during the contraction and the effect will be totally gone after 5-6 times of normal breathing. Plus, has no effect for the baby. Actually I needed to have another internal examination at 18.30. However, since I already felt that the baby already going down and almost felt the urge to push, the midwife prepared all the equipments needed straight away. During those intense contractions and pushings , I concentrated my mind that soon enough I will meet my baby, yay! Finally, after overall process of 14 hours (which the midwife said was a pretty fast normal labour for first child), Arthas was born normally at 19.35 with 2275 gr weight and 47 cm long, healthy and cried loudly. The midwife also supported the early latch on process and my breast milk overflowing straight away, Alhamdulillah..
The benefit of hypno-birthing did not stop there. Since the first day he was born, Arthas relatively far calmer compared to other babies. While other babies's cries were heard so loud til our room, Arthas was never cried when he was hungry. He was just "eh..eh..eh", not loud but loud enough to made me awake and fed him. Alhamdulillah, this really helped me a lot in the adaptation process in the early days of being a mom. Moreover, it was just the two of us in the rooming in room, as my husband was not allowed to stay in the hospital to help me during the night. I was also recovered pretty fast. Days afterwards?? Arthas keep on being a very very sweet boy, practically not cranky, and almost always calm when we take him to walk around. He even stayed settle down with his father during my graduation, which took about 2 hours (he was 11 wks old by then).
So overall, I'm really glad that I did this method during my pregnancy. I honestly recommend this to be taken by every pregnant mother, as I found it really helpful and beneficial, during and prolong after delivery, for the mother and the baby.
Post a Comment
You must be logged in to post a comment.