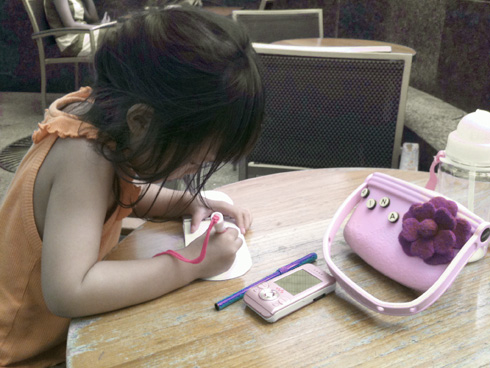 Aina loves accessories, be it hair clips, hats, necklaces... or the larger ones like handbags. Lately, whenever we're out, she has to carry one of her bags. This pink one is one of her favorite.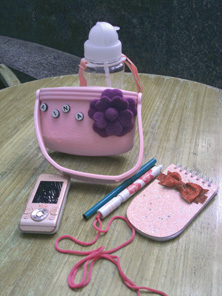 So, what's in her handbag?


Notebook for drawing. this little notebook was bought in Daiso. We let her choose one out of hundreds, and of course, she ended up with a pink, glittery one with a big red bow on it. Who could've guessed.


A few pens and markers. The pink and white one is her favorite, because she can use it as a necklace.


Her pink iphone — or so she calls, which is actually my broken Sony Ericsson phone.


A few hairbands and clips (worn).


On Aina:


Handbag: crocs with jibbits.


Milk bottle to-go: strawberry shortcake.


Tank top: mothercare.


Jodphur-ish pants: big by Fiona Scanlan.


Sandals: ipanema.