When I was about 6-month pregnant, my husband and i decided that we want to decorate our first child's room with colorful animal drawings. We took our time in this project, because towards the end of the pregnancy, my back-pain got in the way. So we only worked on it whenever we (actually, I) feel like i was up for it.
We started with sketching random animals on the wall with pencil. Then we mixed some acrylic paint (a little more expensive, but it doesn't smell and safe for the pregnancy) and started painting.

The drawing on the wall sort of grew organically. We didn't plan what animal to draw and where, so that explains why the peacock is the same size as the elephant...
We finished the wall a day short of two weeks before aina was born. I actually wanted to add more animals and create thicker outlines for each of them, but we thought we could do that after aina was born. Well, we never got around to do it.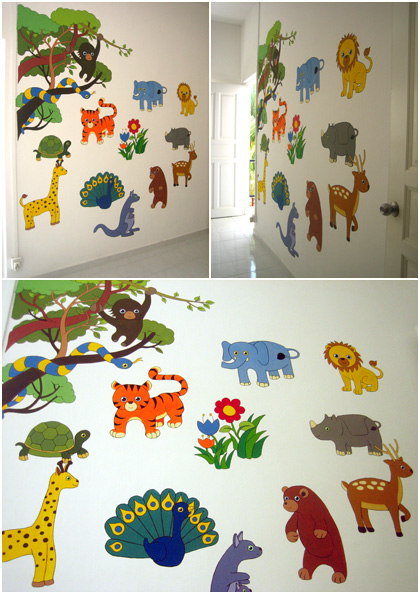 When Aina was younger, she didn't really look at the animals. instead, she focused on the colors... It was around 2 months old that we could sooth her from crying whenever we hold her in front of the orange tiger.
After Aina could talk, she started making up stories of the animals interacting with each other: the bear is daddy, the kangaroo is mommy and Aina is the joey kangaroo... this happens almost every morning, when she just woke up.

So, i guess, now that Aina is 2.5 years old, we can start drawing more animals on her wall, together with aina herself.