I fell in love with Magnolia's Banana Pudding since the day I tasted it almost 10 years ago in New York City. Inspired by it, I decided to look up the recipe and made my own version of it. Now I'm sharing the recipe with you, Urban Mama, though the same recipe has also been featured in my blog a while ago. This recipe can be served for the whole family and kids above 1 year old (though you may want to watch out on the sugar level).
Here's what you need: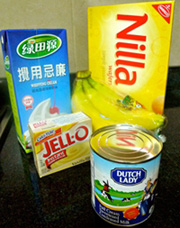 1 packet Jell-O Instant Vanilla Pudding


600 ml heavy/whipping cream


2 cups of water


Half can of condensed milk (around 100-150ml)


Nilla wafer


Grated cheddar cheese or cocoa powder (optional)


Of course... banana! (sliced)


How to make:
1. Pour half a can of condensed milk, mixed with 2 cups of cold water in a large bowl. Then whisk in the whole packet of Jell-O Instant Vanilla Pudding.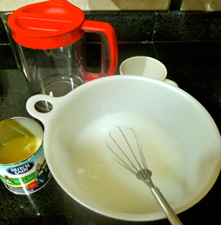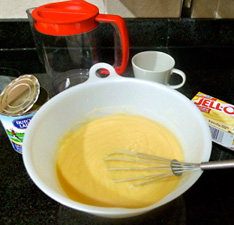 2. Once it thickens, cover the bowl and put inside the fridge. Leave for about 4 hours.
3. After 4 hours, whisk the heavy/whipping cream until it thickens.
4. Then fold in the heavy/whipping cream into the vanilla pudding mix until it has been evenly mixed.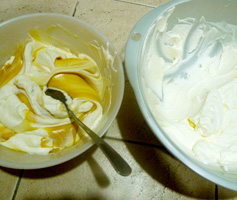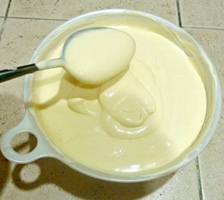 5. Time to put them all together. You can put them in a large serving, or in individual bowl or ramekin. I chose an individual bowl because it'll be easier to prepare and serve.
6. Put a spoonful of the mix into the bowl, then layer it with sliced banana.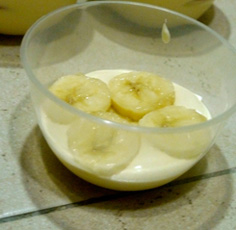 7. Top it with nilla wafer. I prefer it crushed, but you can put them whole too, if you want.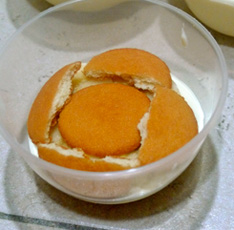 8. Cover the whole layer with another 1-2 spoonful of the vanilla pudding mix, ensure that the wafer & banana are fully covered.
9. Sprinkle the grated cheese or cocoa powder on top.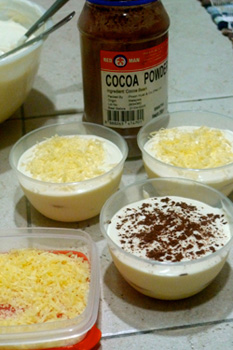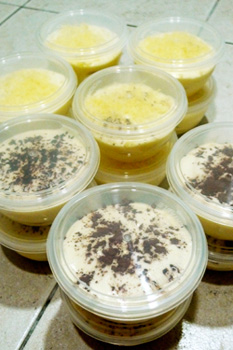 10. Leave it inside the fridge for another 4 hours until the wafer is soaked, then voila.. it's ready to be served!
Things to note:


Eventhough it's a pudding, do not expect that it comes out like a jelly-like pudding. This pudding has a soft consistency, just like chocolate mousse, because it's starch-based.


You may find that some packages of Jell-O sold in Indonesia are marked as "food that contains pork". Please note that the substance that contains pork is the gelatin. The one I'm using (vanilla pudding) has no gelatin because it's starch-based.


Most of the ingredients can only be found outside of Indonesia. However, you may replace it with others. For example, you may replace the Nilla wafer with lady fingers that you may find in bakeries. It is the same lady fingers you would use to make tiramisu.


The vanilla pudding you may make yourself. I have searched for the recipe in google, however, never found the need to make it myself. So if you really insist to try this recipe, search and modify, please :)


If you want, you can use other fruits like mango or even perhaps, young coconut. Be creative, modify the recipe with what's in your kitchen. Don't forget to share them in the recipe thread in our forum! :)


Happy trying!