Dewi 'Dee' Lestari's Diaper Bag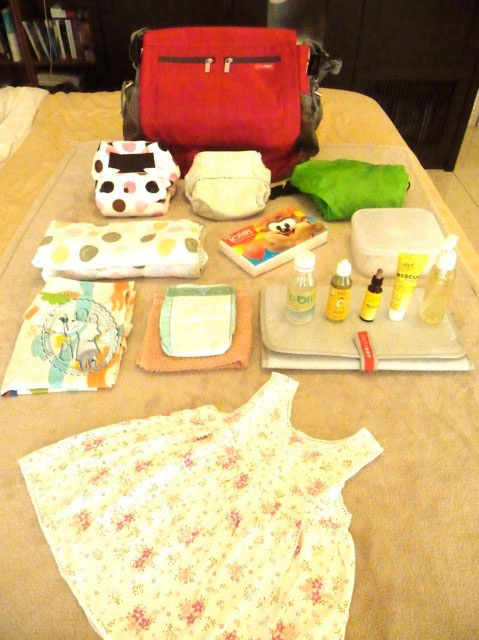 Our daughter, Atisha Prajna Tiara (we call her Atisha), is 1.5 months old now. We don't travel a lot yet, but these are the items that our diaper bag (skip hop via messenger) will carry:



2 clothing diapers, here in the photo we have Blueberry Minky and Rumparooz.


1 disposable diaper.


1 extra clothing.


1 small towel.


Travel-size tissue.


Cotton balls soaked in water for wipes (kept in a leak-proof container).


Muslin wrap from Aden+Anais (this breathable swaddle cloth is very. handy for swaddling the baby, and warm enough as a light blanket).


Breastfeeding cover (for Mommy!).


1 plastic bag (serves as wet bag).


Bach Flower Rescue Remedy (this homeopathic remedy is a first-aid kit to soothe any emergency situation—from mental to physical, just put four drops in drinking water. Safe for even newborn babies, and of course, for soothing the parents as well. We all know that calm parents is prerequisite for calm babies!).


Bach Flower Rescue Cream (in a form of cream, this homeopathic remedy is easier to apply on babies, we dab just a small amount on Atisha's wrists and behind her ears).


Toiletries: minyak telon, virgin coconut oil (we use this instead of baby lotion, also good for treating rash), unscented liquid soap in a travel-size bottle (we use Paula's Choice, not exactly a baby brand, but studying the ingredients I find it even gentler than most of the baby soaps).


Padded liner for changing diapers (well, actually it comes with the bag).