Get Your Pre-Baby Weight Back!
A lot of women, especially Indonesians, think that once you're married let alone give birth to a child you don't need to care about how you look and how much weight you put on. This is what you often hear, "Udah kawin, udah beranak, body melar, nggak apa-apa lah.. udah laku ini!"
But then we can't help feeling envious when we look at other beautiful women. We make ourselves feel better by saying, "Of course she's sexy! She doesn't have two kids like me!" And although sometimes we won't admit it, many of us become less confident when it comes to sex. The flabby belly and big thighs don't make us feel very sexy. Any of this sound familiar?
Why can't you be a mother and still look amazing? Do you have to be a celebrity like Jessica Alba to be one hot mama? Or Alya Rohali who can be the ambassador for an overrated-super expensive slimming center? I don't think so. But one thing you must know though, there are no instant results. I believe the best results are always earned. So first, you have to want it.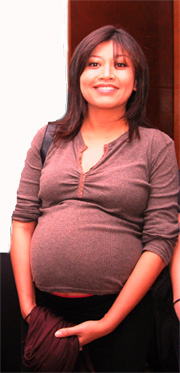 I'm just an ordinary working mom with two little boys. I gave birth seven months ago to my second child,
Navarro Kai Salim
, through caesarean section -- something I'm sure most of you can relate to. I had my second child in my early thirties, so I knew from the beginning it wasn't going to be easy for me to lose the "baby fat".
So I watched my weight-gain during pregnancy. How? I tried to eat only as much as I needed (don't believe when people say you should double your portions because you're eating for two) and not give in to the cravings (ind: ngidam).
And it paid off -- I gained 12 kilograms which is still considered a normal weight gain during pregnancy. So you see, I'm not encouraging extreme dieting during pregnancy. You just need to watch your portions when you eat.
After giving birth, as soon as it's physically possible, you need to start exercising. Since I had to do a caesarean, my doctor advised that I wait eight weeks before I hit the gym. But if you have normal delivery, you can start as soon as three weeks.
I'm a strong believer in exercise. I would rather torture myself at the gym than going for an extreme diet, because I love food! So rather than pay for an expensive slimming package, I spent my money on the nearest gym.
So, how do you fit time to go to the gym when you just have a newborn baby? The answer is you make time! In Indonesia, many of us are never really "on our own" in raising our kids -- some have live-in nannies, some have parents or in-laws living with them, some have a combination of both. So be a smart mommy and take advantage of this luxury. I'm not saying you neglect your newborn baby and focus solely on your weight loss. But surely you can afford to hit the gym for a couple of hours. So two hours, twice to three times a week. That's all! I'm sure you can make this happen.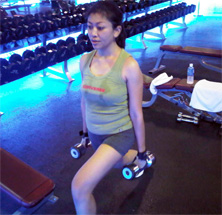 However, it's also important that you get a good quality workout. Pssst.. One of the special ingredients to my secret recipe is my personal trainer. He or she will keep you motivated and push you to do the right exercises for losing weight. So if you can afford to, invest in sessions with a personal trainer. Alternatively, find yourself a gym buddy. Someone who shares the same goal as you, be it your husband or a friend.
But the 'magic' ingredient to this remedy is YOU! Exercise sessions are only effective if YOU are COMMITTED.
For four months straight, I made sure I went to the gym twice to three times a week. My personal trainer didn't come cheap, so I had to make sure he was worth every rupiah!  At first, it was torture but after two weeks I began to look forward to the sessions as I start to notice the change.
When you first enroll in the gym they usually measure your current weight, body age, body fat and muscle mass.  And after 12 sessions (more or less one month) they'll check your progress. For example, I'm 33 years old and I was angry at myself when they told me my body age was 38! I was super happy to know that after one month of exercise my body age was 35. After four months working out, my body age is 31 (yep, younger than my age). I lost all the baby fat and can now fit into my old jeans!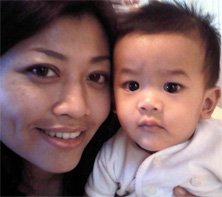 I tell you now, all the gruelling exercise is worth it. I feel lighter, healthier than I've ever been and more confident. And I want to keep it that way. You can't help feeling proud when people don't believe you just had a baby. And guess what ladies, the regular exercise improves your sex life. You have better stamina and obviously feel good about how you look.
I believe every mother occasionally still needs and deserves a time-out from their kids. That doesn't make you a bad mother. I use that time out to make myself healthy and being healthy makes me happy.
Don't forget, a happy mommy makes a happy baby!