Goodnight, See You In The Morning!
Something has changed in me.
Every night after my little one's last feeding, I wait until the very last minute before I move her to her room. Before she was born, my husband and I had made up our minds that our baby would be sleeping alone in the nursery. Co-sleeping didn't seem like something that would work for us. We were too worried we would roll on top of her.
Until a couple of weeks ago, everything was fine. Akila has almost always slept very well. She has been sleeping for 6-8 hours straight since 6 weeks of age. I had no problems with that of course! Having a new born sleeping through the night was such a blessing! So I thought at first.
Now, after the baby blues had faded away and motherhood starts to really kick in, every night when it's time to move her from my bed, my heart skips a beat. Will she be okay? Will she be too cold, or too hot? Will there be any critters creeping into her bed? What if she cried at night and I didn't hear her? How would she feel when she rolled over to find me and I was not there? All of the sudden, the thought of my sweet baby feeling alone and sad was just heartbreaking.
To part with her, even just for 6 hours of sleeping isn't as easy anymore. I know she's just in the next room, but still, not being able to cuddle her all night and smell her baby scent makes me a bit tensed and teary-eyed.
My husband suggested that we consider letting her sleep with us. I guess he misses her too and feels just like I do. We gave it a shot and to our surprise apparently the baby had other plans! After 6 months of sleeping on her own, she's now used to having her own space. When she's healthy — no teething or fever —it seems that she prefers to sleep on her own without her parent's snoring and occasional tossing and turning. She sleeps better by herself! My oh my..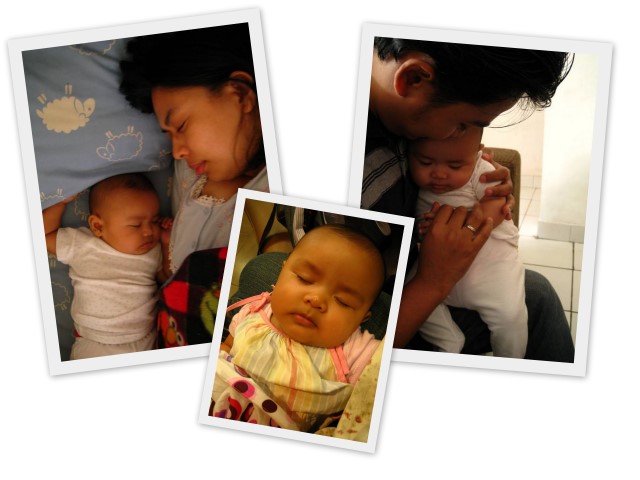 Although heartbreaking, we've decided to keep things the way they are, since it's the most comfortable for her. Now my husband and I are left in bed at night missing our little one. To ease our worries, we talk about the funny things she did that day and mimicking her typical behavior before bed religiously.
I'm always anxious to meet her the next day and I cross my fingers every night, hoping she would wake up for her midnight feed just so that i can meet her and hold her close.
I never thought i would feel like this. My heart melts whenever I leave my baby's room after kissing her goodnight. I was convinced that i would be able to be firm all the way. But, I was wrong.
Her chubby little face has changed me :)