My husband and I are two people who looove to travel. Between the both of us, we have travelled to quite many places. When I was pregnant, I was worry that having a baby means that we need to postpone many of our travel plans. There were even times that we thought we would leave our child with our parents, so we can keep continue to travel. Sounds selfish? Well, that's what parents-to-be think. But as soon as the baby's born, it was too hard for us to even leave our baby daughter for a couple hours to the movie, let alone, leaving her with our parents for a number of days.

My bond with my daughter was formed instantly as soon as she was born. There was no way I would leave her at home (unless if it's for work) for long number of hours. She goes with me everywhere I go, period! So when we had to take a trip to travel during her first year, it was only a normal thing to do to just take her along.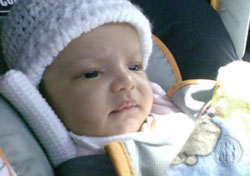 At first, it was only a trip by car to Kuala Lumpur, Malaysia when my daughter was about 40days old. It was about 5 hours trip and we placed her inside her infant car seat with a nice rest time in between (babies should only be placed in car seat for not more than 2hrs at a time). I was nervous at first, but since Naia was a breastfed baby, it was not as complicated as we thought. She slept the whole time on the road and only woke up when the car came to a full stop. More road trip tips with infants was already discussed last week,
here
.
At about 7 months old, after many road trips in between, we finally took Naia to visit our parents in Jakarta by airplane. It was the first time Naia took an airplane and also at the age that she already started to eat solid food. She was still breastfed, so the take off and landing period was still a breeze. Only when we got on the ground and had our family surrounded her that we started to feel the "problem". Naia did not want to eat anything at all! Later we learned, she was having a stranger anxiety with all the new faces surrounded her privacy when she got landed to Jakarta.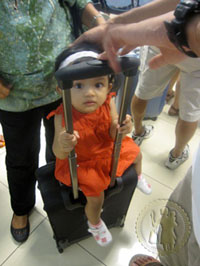 We didn't give up. After taking her to many trips in between (by car or by plane), we decided that we should take a step up. So at 10 months old, we took Naia on a trip to down under. We stayed there for about 2 weeks, in which we also took a road trip to the southern part of west Australia. This was actually the real vacation trip we took and it was only the three of us for the whole time. I was worried at first. First, because of the long flying hour. Second, Naia was eating well and being on the road means I have to prepare her food. I insisted that I had to prepare them and if I can, would not give her the bottled or instant food. Turns out, Naia was having such a wonderful time, especially when we were also took things easy and enjoyed ourselves. Yes, our travel plans may not be too hectic as if were were still single. The itinerary was always focused on Naia's nap time, meal time, etc. But since we enjoyed ourselves and not rushing too much, we were setting a good mood for the whole trip and Naia could feel it too.
At exactly 12 months old, we took another one trip before she's officially a toddler. This time it was a trip by ferry, crossing over to Batam island from Singapore. We stayed at the resort with apartment set-up villa, so preparing food was easy. But since she was already 12 months old, we also started feeding her with table food. So we were even more relaxed and enjoyed the whole trip.

Based on what I have experienced so far, taking my baby daughter all over the place with different means of transportation, I gathered these tips for other Urban Mamas & Papas.

1. When to Travel
Actually, do you know that the younger they are, the easier it is to travel? They sleep anywhere you put them and if you're breastfeeding, you don't have to carry anything extra. At around 7 months, they would start following a routine. So what I did during that first year is to make sure that we travel during Naia's nap time. We even flew at midnight during out trip to Australia, so we ensure that Naia (and us) can have a good night sleep during the trip. It worked!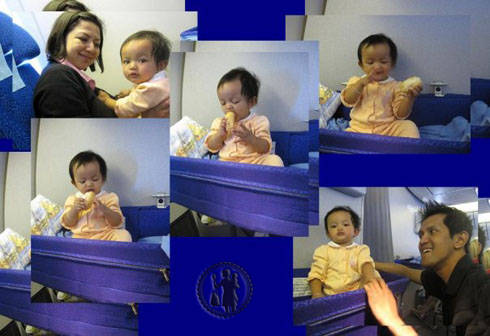 2. Health & Safety
Make sure that your baby is up to date on her standard immunizations. Bring the docs along would also help so if anything happens during the trip, you'd have them handy. If your baby has a health condition or you're a bit worry about the health issue, you may want to visit the pediatrician before you go. Ask for a basic medicines like for fever, flu, etc. It would definitely ease your mind and brings a better mood for during the trip.

3. What to Pack
Don't over pack. Other parents may say that pack more is better than pack less. But if you're travelling, that's not necessarily true. Bring enough nappies to last a few days, then if you're travelling for a long period of time, then just buy the rest when you're there. As long as you pack all the necessity, you're good to go! You don't have to bring all the toys, just 1-2 is enough, particularly the ones that your child MUST have around him/her, no matter what. Make sure to bring a few to the cabin if you're taking a plane.

4. Lightweight is Better
Bring a lightweight stroller. It's definitely something you would need during your travel! If you're hiring a car, rent a car seat. No need to bring one, if you don't have to.

5. Utensils & Bottles
Bring a couple of utensils & bottles with you, if you're child already take solid food. You may want to start them with instant food so that it'd be easier for you during the trip, but if you insisted to prepare their own food like I did, you may want to bring along a small electric stove. Run to the grocery store as soon as you arrived so you can prepare their meal and pack them. Or, like what I did too, be creative when placing order at the restaurants. Chances are, they would cater to your request. For example: I requested for scrambled egg with cheese & mushroom for breakfast, no salt. For lunch, I'd ask for mashed potatoes and pasta for dinner. All available! As for utensils wise, by the time my daughter was 9 months old, I don't sterilize the utensils anymore. They are just washed with soap and warm water and that's it! If you really concern about sterilization, use the hotel's coffee pot. Fill it with water and boil it with the utensils inside.

6. Dress the weather
Make sure to check the weather of your destination. Bring along enough clothes for the trip, and bring the baby detergent. You can always handwash them at night and they're ready to wear the next day.

7. Baby Carrier
Lightweight stroller is always good, but never forget the baby carrier! It's the most useful and practical thing to bring when you're travelling, cuz chances are, they'd rather be carried instead of in the stroller. Use your stroller to carry other stuffs :)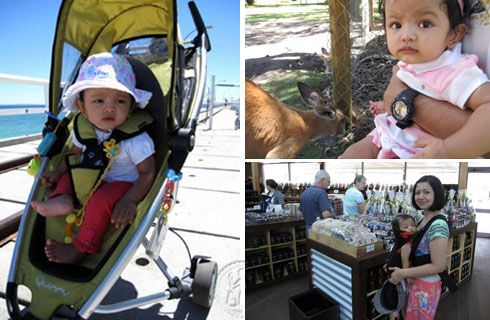 8. Do things in Moderation
Always check if your baby is tired, sleepy, or hungry. Unlike when you're still single, you itinerary must revolve around your baby's schedule. Stop and rest if you think your baby needs to sleep. Never force yourself to fulfill an itinerary when you know your baby is not in the mood. Yes, you may miss out on an event, but you would rather miss it than having a cranky baby for the rest of the day, wouldn't you?

9. Go to places that stimulate interests to your Kids
Since you are travelling, your baby's playtime is basically to go and see these new places. Use these new places and attractions as part of learning experience and play time moments. Share it with them and show them how interesting they are. When I took Naia for a trip to south of Western Australia, we walked along a Jetty and went to the underwater observatory. This is when Naia took her interest in fish! After that, she is just very fond of fish and would light up everytime we mention the name.

10. Team work & always keep a happy mood!
Though travelling with kids mean a LOT of work for the parents, so the team work has to be in place. Mama & Papa must work together to make things work, so the mood is always happy! Don't think of the whole preparation and 'vacation work' as something that tires you out. You should just enjoy it, and your child would enjoy it too.

Over time, I found many parents who were reluctant to travel with their babies because of the number of things they have to pack or the thought that it may be a hassle to carry the kids around. It's not always the case, so I hope these tips would help you. I always believe that having a child should never be seen as a limit to your activities. You should, however, involve them in it!
As for Naia's case, she's still travelling to different places in her toddler period .. and more! The travel is harder for us as she's more active and can run on her own (tho it means, we don't need a carrier anymore), but definitely more enjoyable for her since she's more aware of new places. Wait for more tips for Traveling with a Toddler later.
In the meantime, take your babies away for a nice getaway next time a holiday is around the corner. Hope these tips would prepare you for a nice & enjoyable trip!