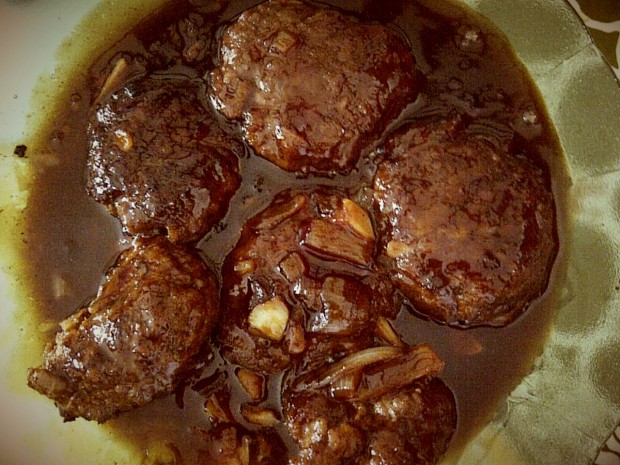 I have made this in the past and only named it Hamburg Steak just recently after I tasted a similar menu/if not the same at a Japanese restaurant.
It is basically just minced meat drizzled in Worcestershire sauce. I used to call it just meatballs.
But nevertheless, it tastes great and it's pretty easy to make. The one I had in the Japanese restaurant was really big that it can be shared for two people, so I made smaller one portion bites at home.
Taste: Meaty with a sweet and smoky sauce
Texture: a bit of crunch from the fried meatballs but soft and moist meat on the inside.
Ease: Pretty easy
Note: I have no exact measures when it comes to cooking, so it tastes slightly different everytime.
Ingredients:



A small carton of milk


2 eggs


About 4 tablespoons of Panko breadcrumbs


About 300 gr of minced prime beef


1 small onions finely diced


About a dollop of Blue Band (the yummy margarine)


Salt &  black ground pepper


A dash of Kecap Manis


A dash of Worchestire sauce


A tiny squirt of Kecap Asin


A dash of Oyster sauce


A tiny squirt of Tomato Sauce


Method:


Pour milk into breadcrumbs until it is soft and moist. This is the little secret so that your beef will stay soft and moist when it is cooked. If you put the hard breadcrumbs it will make it hard and dry and not pleasant for the throat and taste buds.


Add it to the minced beef


Add salt & black ground pepper


Cook the onions in the dollop of Blue Band until soft and gives out a sweet aroma.


Add it to the minced beef and with your (clean) hands mush them up and form golf size balls. It makes about 16 golf sized balls.


Fry them with oil just enough to brown all sides and are quite firm. Set aside.


In another medium heat pan, mix number 7-11, until it's slightly bubbly, lower heat. Add the browned meat and just fold the sauce carefully. Once it is evenly distributed, cook it for another 5 mins with a lid on and voila! you have your Hamburg Steak.


Additional note:
you can put as much or as little sauce you like, and you can even throw in chopped onions for that extra crunch.
I also prepare the 'meatballs' one day ahead and store them in the freezer. That way half of it can be used to make Hamburg Steak and the remaining can be used to make larger patties for homemade hamburgers.