Organic Mothers Milk - An Alternative To Increase Your Breastmilk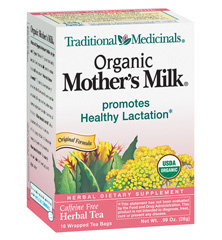 Sebagai salah satu mama yang struggle agar bisa terus memberikan ASI, saya selalu berusaha mencari cara agar produksi ASI bisa mencukupi kebutuhan anak. Bagi saya yang produksi ASInya 'tidak deras', segala hal yang berhubungan dengan peningkatan kuantitas dan kualitas ASI pasti akan saya jalankan.
Kebetulan waktu lagi 'blogwalking' nemuin blog yang menyarankan untuk try this Organic Mother's Milk Tea . They said it will increase your breastmilk production.
Well, karena udah bosan makan daun katuk, daun kacang, dan yang lainnya, I think I will give it a try. This is their statement about the product:
Organic Mother's Milk® promotes healthy lactation* and is traditionally used to increase breast milk production.* This traditional combination of anise, fennel and coriander has been used for centuries by European women, often recommended by lactation counselors and medical herbalists. Organic Mother's Milk® is a pleasantly aromatic balance of sweet, spicy and slightly bitter tastes.
Menurut saya, rasanya tawar dan sedikit bitter at the end. Untuk yang tidak terbiasa minum herbal tea mungkin agak kaget tapi kalau sudah biasa, flavor is actually not bad. It smells sweet, seperti Lo Han Kuo (obat cina) tapi yang pasti rasanya tidak sweet.
Entah sugesti atau tidak tapi bagi saya terlihat memang ada peningkatan pada produksi ASI.
Mungkin urban Mama bisa mencoba sebagai salah satu alternative to boost up your ASI.
Happy breastfeeding, Urban Mama!
*source image : www.traditionalmedicinals.com