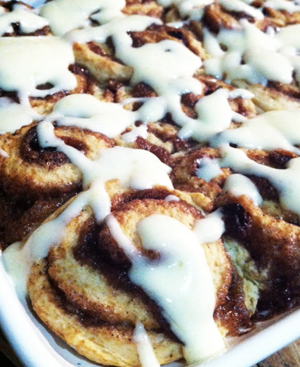 I'm always taken aback every time I want to try Cinnamon Rolls recipe, merely because it involves yeast and the duration when I have to let the dough sit overnight. I do love to make bread or those recipes that requires long duration of time for special occasions. Though, I prefer to choose for the quick & easy recipe and of course, with good result!
So, after looking at the pizza rolls recipe from the recent baking book titled "Women's Weekly: Kids in the kitchen" I received as birthday gift from Thalia, I figured, I can use the same dough to make cinnamon rolls. So, I experimented!
No yeast and it came out good .. yay! It may not be as fluffy as the traditional one, but good enough for an easy and quick one, especially when you are craving for them, and definitely perfect for a busy mama like me :)
Ingredients:
For Dough:



2 cups of all-purpose flour


4 tsp of baking powder


1 tsp of salt


2 tbs of caster sugar


1/4 cup of butter, room temp, cut up to cubes (I put in the butter little by little, so you may need more or less, depending how you knead your dough)


1 cup of milk


For Filling:


1 cup of brown sugar


1/3 cup of margarine (or butter), melted


1 tbsp of cinnamon powder


1/2 cup of raisins


For Icing:


1 cup of icing sugar


2 tbsp of cream cheese (optional)


1 tbsp of butter


2-3 tbsp of milk


Directions:
1.  Preheat oven around 190-200C.
2.  In a small bowl, mix the filling ingredients, except raisin.  Set aside.
3.  In a large bowl, mix the flour, sugar, baking powder, and salt together.  Then drop in the butter cubes while you mix them with the flour, to create a crumble-like mixture (I just use my hands).  Keep adding until no-more loose flour, but not too soft.  Then pour in the milk little by little while you keep kneading the dough.  When the dough is all mixed together and not sticky, then you're dough is ready.  If the dough is too sticky, add 1 tbsp of flour and continue kneading.  If it's too hard & loose, add more milk.
4.  Flatten the dough using the rolling pin, making a square.  Spread the sugar cinnamon mixture evenly on the dough surface, then sprinkle the raisin on top.
5.  Roll the dough, then cut about 1cm-1.5cm the dough creating the nice rolls.  Place them next to each other in a baking tray (see below).  Bake for about 30 minutes.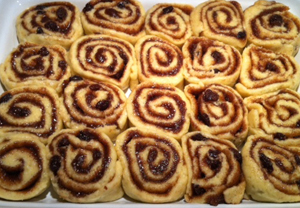 6.  For icing: mix the ingredients together with a whisk.   Once the cinnamon rolls are done and taken out of the oven, pour the icing with a spoon.  Serve warm.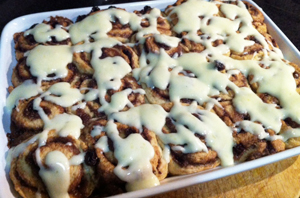 This recipe is to make about 12 small cinnamon rolls. Happy trying!