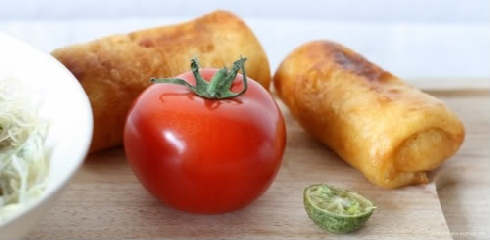 This was the reason why I spent 3 hours in the kitchen when making soto mie. Since I was to make my own crepes instead of using ready to use spring roll skin, because for me the taste will be different. My hubby said, I always want every thing to be perfect in cooking. Always give my energy and effort to make it identical as the original. Ya... not always though, sometimes when I'm too much lazy, I will chose the short cut.

The other reason (the most important one) to make the crepes from scratch was because my hubby loves to eat homemade risol. See, food is really love, isn't it!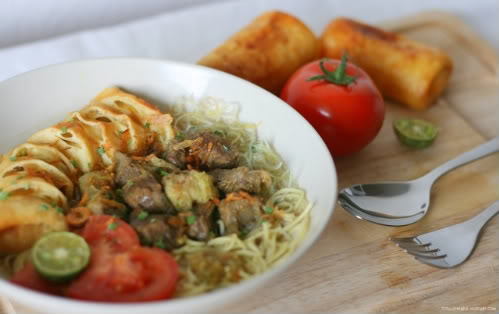 Hours I spent to make this risol was nothing comparing how happy my hubby was eating them (yes, he ate more than one). Even he didn't give me a chance to make photo of them. That's why I post the one I cropped from soto mie photos set so you can see how chubby my risol was.

The original filling recipe I got from Mbak Esther, I modified by adding salt and sugar and substituting the use of royco powder (royco is a brand, it's the same as maggi or knor) with salty soy sauce to make my filling sexier with the tan look ;)

Ingredients:
Crêpe:


250 gr high protein flour (in Germany it's type 550).


2 eggs.


1 tsp salt.


1 tbsp cooking oil (can be substituted butter, melted).


½ tsp baking powder.


500 ml fresh milk (add more if the batter still thick).



Filling:


227 gr (1 package) of dried rice noodle, soak in boiling water, drain.


4 cloves of garlic, finely chopped.


1 big red onion, finely sliced.


1 tbsp dried green onion.


Pepper, salt and sugar as needed.


Salty/light soy sauce as needed.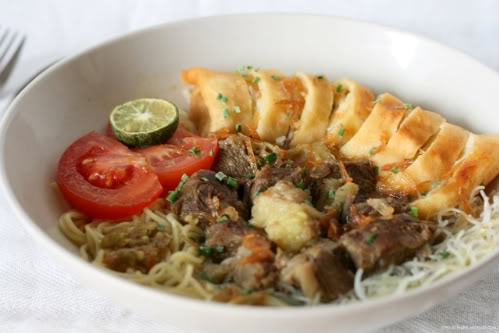 Methods:
Crêpe:
1. Sift flour, add baking powder and salt, mix well.
2. Make a hole in the middle of flour mixture, fold in eggs. Mix using whisker.
3. Gradually add milk until set and the batter become soft and smooth. (Sift the batter if the flour do not dissolve properly).
4. Add cooking oil, mix well.
5. Close with plastic wrap, let it stand for 30 minutes.
6. Heat small amount of butter in a crêpe pan. Ladle the batter and shake the pan to make it even. Cook for around 2-3 minutes over moderate heat. Remove from the heat.
7. Repeat until all the batter used up. Set aside.

Filling:
1. Sauté red onion and garlic until fragrant.
2. Add rice noodle, season with pepper, salt and sugar. Stir fry until set. Turn of the fire.
3. Fold in dried green onion and light soy sauce. Mix well until blended. Let it cool.

Butter
Egg white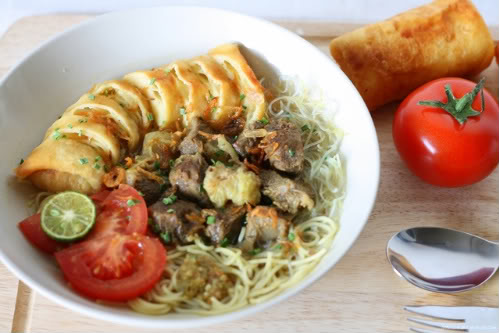 Finishing:
1. Place one crêpe in a flat plate. Place some of the filling on it. Wrap like envelope. Glue with egg white. Fry until golden brown.
2. Slice and ready to serve with soto mie.