Enji Magetsari
A working mom, originally from Bandung. She lives in Singapore with food critics son Mahavyr and husband Arrizky Magetsari.
Instagram:
http://instagram.com/enjita/
Selain perayaan Tahun Baru 2017, bulan Januari ini tepatnya tanggal 28 Januari adalah Tahun Baru Imlek yang merupakan perayaan terpenting dalam kebudayaan orang Tionghoa. Tahun Baru Imlek disesuaikan dengan perhitungan kalendar shio hewan di tahun tersebut; tahun ini adalah giliran shio Ayam merayakan tahunnya. Bento tutorial kali ini saya akan berbagi cara membuat bekal dari nasi dan telur rebus yang dibentuk menyerupai ayam. Sesuaikan besar nasi dengan porsi dan wadah yang tersedia, isi bekal dengan lauk favorit anak.
Bahan:
Nasi secukupnya
1 butir telur rebus
Daun selada, cuci bersih
Wortel
Nori
2 butir jagung rebus
Lauk favorit anak
Saus tomat 
Alat:
Cookie cutter bentuk bunga, jika tidak ada bentuk dengan wortel dengan pisau kecil
Pisau kecil
Tusuk gigi
Plastic Wrap
Wadah/kotak bekal anak
Nori puncher
Cara Membuat:
Alasi wadah/kotak bekal dengan daun selada.
Kepala ayam: Dengan bantuan plastic wrap bentuk nasi menyerupai kepala ayam, sesuaikan dengan porsi dan wadah. Cetak wortel dengan cookie cutter menyerupai jengger ayam, rebus sebentar hingga matang, posisikan jengger diatas kepala ayam. Atur nasi yang sudah dibentuk dalam wadah, bubuhkan nori untuk mata, dua butir jagung rebus untuk paruhnya, bubuhkan sedikit saus tomat untuk bagian pipi ayam.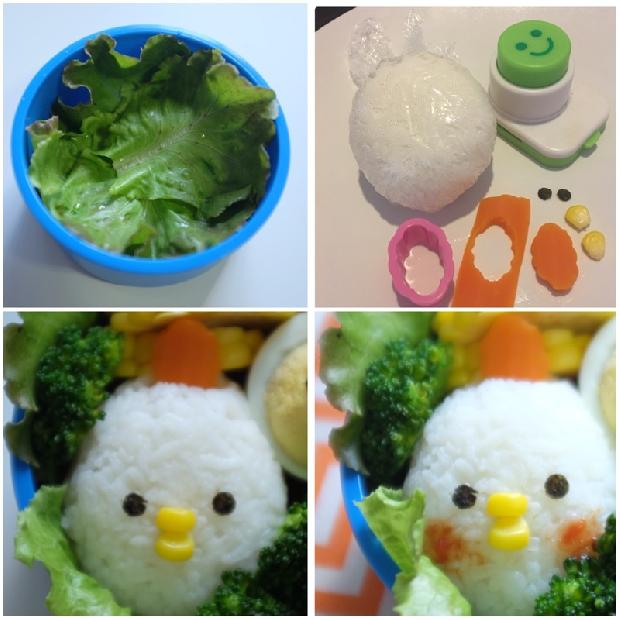 Anak ayam: Kerat telur rebus dibagian tengah, usahakan jangan sampai kuning telur ayam terbelah. Cetak wortel setengah lingkaran menyerupai paruh ayam, rebus hingga matang. Menggunakan nori puncher, cetak nori untuk mata dan rambutnya. Atur telur rebus dalam wadah, bubuhkan wortel dan nori untuk wajahnya.
Tambahkan lauk pauk dan rebusan sayur favorit anak dalam wadah, usahakan padat dan tidak ada bagian yang kosong agar posisi bento tidak berubah.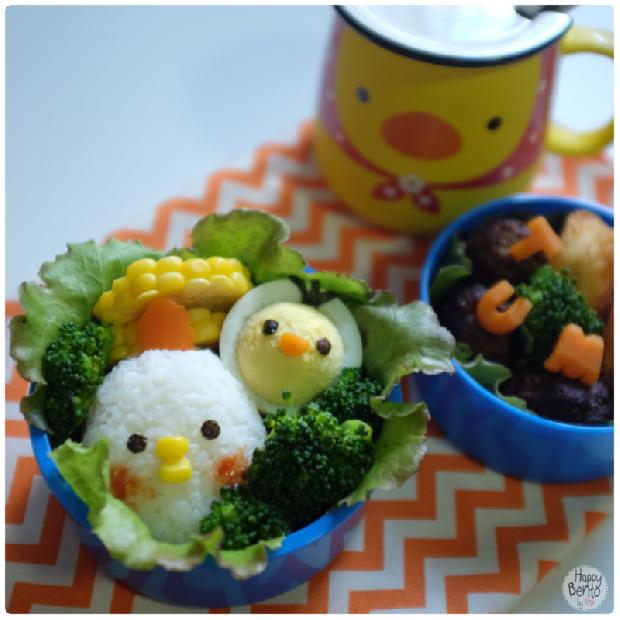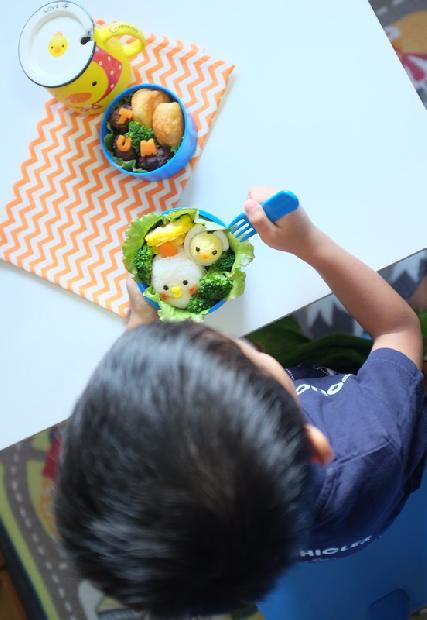 Selamat Tahun Baru 2017, Gong Xi Fa Cai. Mudah-mudahan tahun ini lebih baik dari tahun sebelumnya membawa rejeki berlimpah dan kesehatan bagi kita semua.
Post a Comment
You must be
logged
in to post a comment.