Sarapan dengan Bunny Toast
Enji Magetsari
A working mom, originally from Bandung. She lives in Singapore with food critics son Mahavyr and husband Arrizky Magetsari.
Instagram:
http://instagram.com/enjita/
Salah satu pilihan sarapan yang bisa dibuat dengan mudah dan mengenyangkan adalah roti bakar. Hampir semua menyukai roti bakar, kan? Nah, kali ini saya akan berbagi cara mudah membuat Bunny Toast.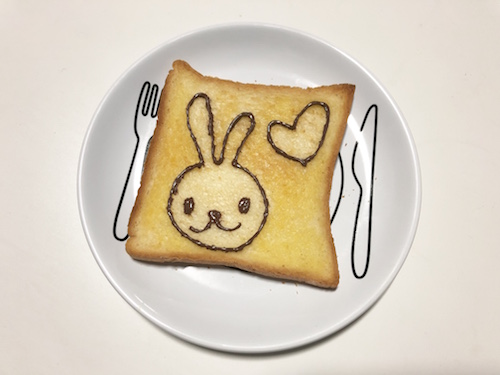 Ajak si Kecil untuk menggambar karakter favorit mereka pada kertas untuk kemudian dijiplak pada roti menggunakan food drawing pen yang sudah diberi isian selai coklat. Jika tidak ada food drawing pen, gunakan plastik segitiga yang bisa didapat di toko peralatan dan bahan kue. Panggang roti menggunakan toaster oven, jika tidak ada gunakan oven biasa dengan api atas. Selamat mencoba Urban Mama.
Bahan:
Alat:
Kertas

Gunting, cutter

Aluminum Foil
Cara Membuat:
Gambar karakter favorit pada kertas, gunting pola. Dengan bantuan cutter, potong pola pada aluminum foil.

Letakkan pola aluminum foil diatas roti tawar, masukkan dalam oven toaster, panggang roti selama 3 menit atau sesuai selera.

Dengan bantuan food drawing pen yang sudah diisi selai coklat, salin pola pada roti bakar hingga menyerupai karakter. Sajikan.