Satu Tahun The Urban Mama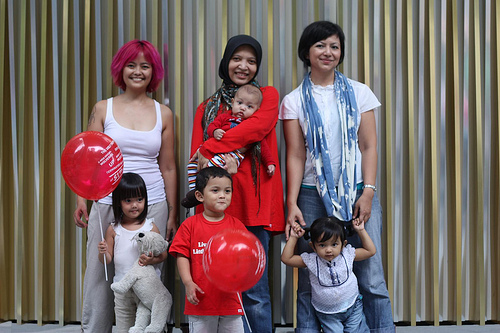 Editor In Chief: Ninit Yunita's Story
When you want something, all the universe conspires in helping you to achieve it.
Itu salah satu quote favorit saya dari novel The Alchemist yang ditulis oleh Paulo Coelho. Keberadaan The Urban Mama, seperti konspirasi alam semesta yang menyenangkan. Saya, Thalia, dan Shinta adalah blogger yang dulu tinggal di tempat yang terpisah sampai kami akhirnya bertiga sama-sama tinggal di Singapura dengan kehidupan baru menjadi seorang ibu. Kami bertiga sering bertemu. Obrolan kami selalu berakhir dengan pembahasan mengenai anak. Tentang stroller, cloth diaper, anak saya yang susah makan, perkembangan bahasa, dan sejuta hal menarik lainnya yang tidak pernah bosan dibicarakan.
Suatu hari, saya chatting dengan sahabat saya di dunia maya, Udhien. Ajakan spontan Udhien untuk membuat komunitas membuat saya langsung mengajak Thalia dan Shinta. Semuanya terjadi dengan cepat dan natural. Alam semesta seperti mendukung kelahiran The Urban Mama. Tidak butuh waktu yang lama untuk kelahiran The Urban Mama. Kami masing-masing memiliki latar belakang yang berbeda. Saya, ibu rumah tangga. Thalia, working at home mama. Shinta, working mama. Kami masing-masing memiliki cerita yang berbeda dan ini menjadi sesuatu yang menarik. Lalu The Urban Mama lahir. Grand launch bertepatan dengan Hari Ibu pada 22 Desember meski sebenarnya gaungnya sudah kami mulai via twitter. Tidak lama, Bisri, Otty, Eka, dan Chika menjadi bagian dari The Urban Mama family.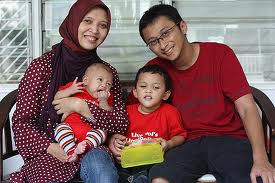 Setahun sudah perjalanan The Urban Mama di dunia maya. Begitu banyak cerita yang terukir. Keberadaan The Urban Mama mendukung cita-cita saya untuk bekerja dari rumah. Suka duka tentu banyak sekali dalam setahun perjalanan ini, misalnya saat saya harus mengedit artikel-artikel yang masuk, anak-anak saya berebut mainan dan masing-masing datang sambil menangis mengadu pada saya. Mengedit artikel, mengirim email-email penting, terkadang sering saya lakukan sambil menyusui anak saya. Saya menjalankan The Urban Mama dengan serius. Semua itu saya lakukan dengan senang hati.
Perjalanan The Urban Mama ini baru satu tahun. Tapi begitu banyak hal yang menyenangkan. Teman-teman baru. Pengalaman dan cerita yang berbeda. Artikel-artikel yang kami terima sangat bagus dan begitu menarik. Senang rasanya! Dengan rendah hati saya mengucapkan terima kasih yang tidak terhingga kepada urban Mama Papa.
Satu tahun berlalu dan seperti harapan orangtua untuk anaknya, saya berharap dan optimis dengan The Urban Mama. Semoga selalu menjadi tempat yang menyenangkan bagi para urban Mama dan Papa untuk berdiskusi dan berbagi cerita.
Selamat 1 tahun, my beloved The Urban Mama.
Business and Client's Relations: Shinta Lestari's Story
Tiredly happy!
Itu adalah jawaban saya kalau ditanya kesan pesan setahun bersama The Urban Mama. Having The Urban Mama is like having a second child, having a newborn all over again! And I get to see both of them grow right before my own eyes.!
Sungguh gak pernah kebayang kalau kepindahan saya ke Singapura justru malah mempertemukan saya dengan 2 orang teman, Ninit & Thalia. Walaupun bukan teman yang baru saya kenal, kami sebelumnya tidak pernah tinggal di negara yang sama di waktu yang bersamaan. Sebelumnya kami hanya kenal di dunia maya, walaupun pernah bertemu muka sebelumnya beberapa kali, tapi tidak pernah bersamaan. Dan setahun terakhir ini benar-benar menjadi momen dimana hubungan kami tumbuh tidak hanya sebagai teman berbagi, tapi juga mereka menjadi sahabat-sahabat saya. Terbukti kami berkomunikasi setiap hari tanpa henti. Kadang sampai tengah malam masih email-emailan atau malah telpon-telponan.
Before I go on, I'd like to take you on a time capsule down a memory lane.
I know Thalia in 2001 through her blog. At around the same time, if not earlier, I know Ninit as Adhit's girlfriend, also through each one's blogs. Same goes with Udhien & Bisri. We knew each other online, eventhough Thalia and I used to live in the same area in New York City (in fact, later I found out, our apartments was nearby too). I didn't meet Thalia in person until around 2004, when she came back to New York City for a visit. With Ninit & Adhit (who has married at the time and living in Abidjan and become best-seller novelists), I remember I first met Ninit & Adhit in Citos, for a press conference on some movie. Udhien, I met together with other Indonesian bloggers back in 2004 during my short visit to Indonesia .. and Bisri? I only met him in person a month ago when he visited Singapore, eventhough our communication has started waayyy long before that!
However, in 2007 .. Ninit, Thalia & myself finally met in the same spot in Singapore, married and with kids! What a crazy coincidence. Being online friends for so long, now living in this small island, with different lifestyles altogether, we have one thing in common.. we are now a mom (well actually, Thalia & Ninit was already a mom, I was still pregnant at the time)! Soon after, we started to have playdates, talk about parenting, kids, domestic issues, etc. Honestly, it's something that I wouldn't have imagined to happen, but those parenting talks and playdates are the one that I always look forward too at the end of my working week.
Then it's only natural that at the end of it, The Urban Mama happens!
Gak kerasa, The Urban Mama sudah mau merayakan anniversary yang pertama. Time surely flies! Kebayang banget waktu di awal terbentuknya The Urban Mama, saya, Ninit, dan Thalia jadi punya frekuensi bertemu untuk playdate setidaknya tiap bulan. Selain buat saya sebagai adjustment di negara baru, Ninit & Thalia menjadi tempat saya bertanya, my support system for being a new mom. Lama-lama kita ketemu untuk acara-acara playdate seru. Judulnya sih playdate, padahal maksudnya supaya mama bisa meeting. Tapi namanya juga mama ya, walaupun playdate ngajak para papa biar anak-anak gak gangguin mama yang lagi meeting, anak-anak tetep maunya ke mama. Jadi meeting yang sebenernya bisa selesai dalam 1 jam, akhirnya bisa sampe berjam-jam gak beres-beres. Selain yang dibahas ngalor ngidul jadi ngomongin anak (kopdar dadakan), atau gak jadi pada ngurusin anak di tengah-tengah lagi sibuk diskusi. Tapi itu seruuu banget!
Belum lagi kadang kalo mesti meeting online dengan para web warriors, kami selalu kesusahan karena jadwal yang berbeda, plus ditambah nunggu anak-anak pada tidur dulu biar gak digangguin. Jadi urusan meeting pun selalu jadi kendala. Jadilah tiap hari kita bisa terima berpuluh-puluh email untuk diskusi ini itu. Dan ini jadi hal yang exciting buat saya, apalagi kalo lagi bosen di kantor.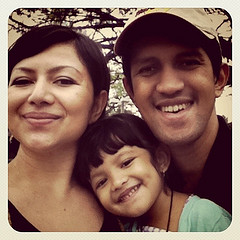 Hari-hari saya sekarang setiap pagi adalah menyiapkan Naia bersiap-siap sekolah, nganter ke sekolah, trus saya ke kantor. Sampe di kantor, in between my break time, saya moderate forum. Pulang kantor, setelah kangen-kangenan dengan Naia, makan malam (kadang kalau pulang cepet, masak dulu), main sama Naia, lalu nidurin Naia, dan jadwal saya gak selesai sampai di situ. Tapi lanjut ngurusin urusan TUM; bales-bales email, bikin draft agreement, proposal atau nulis artikel. Kadang gak kerasa bisa sampe jam 2 pagi baru akhirnya bisa istirahat dan tidur. Jadi wajar kan kalo saya bilang benar-benar tiring… but I don't mind and I'm happy! Apalagi ngeliat TUM yang sudah berkembang seperti sekarang ini.
Tidak pernah terbayang kalau komunitas online yang kami buat ini ternyata bisa memberikan dampak yang begitu besar kepada para urban Mama dan Papa yang lain. Tentunya kami senang sekali. Karena tujuan kami cuma satu, bisa berbagi dengan para Mama dan Papa. Latar belakang kami yang berbeda juga lah yang membuat kami bisa menciptakan tagline "There's always a different story in every parenting style" karena kami bertiga juga mempunyai lifestyle & parenting style yang sangat berbeda. Tapi perbedaan ini bukanlah menjadi alasan untuk tidak saling support, justru sebaliknya malah kami berhasil menyatukan itu dalam persahabatan kami .. dan juga untuk The Urban Mama.
Semakin ke sini, kami semua sudah menemukan fungsi kami masing-masing dan kami bergerak sendiri dengan tujuan yang sama, membesarkan The Urban Mama menjadi komunitas yang lebih baik dan informatif. Komunikasi kami kebanyakan benar-benar lewat email dan online. Honestly, it's the best arrangement. We all have our own office at home and no matter where we are, we're working on the same thing. That's the point of online community right? Karena kami bisa menjalankan ini semua online, tidak terbatasi oleh jarak. Yang penting komunikasi selalu jalan dan lancar dan makin seru dengan bertambahnya TUM family sejak ada Otty, Eka & Siska.
Thanks for the wonderful year, urban Mama & TUM Family! Let's look forward to an even more wonderful year ahead. Love you all! Happy 1st Anniversary, The Urban Mama… dan Selamat Hari Ibu!
Creative & Product Development: Thalia Kamarga's Story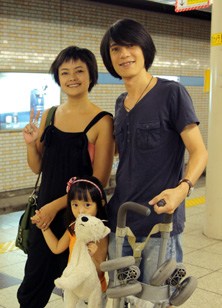 Having children is a blessing. Everyone says so. It is a common saying that I've heard many times before.
What I didn't know was the real meaning behind it. Becoming a parent is such a blessing that it has changed me to become a new person. It has pushed me to do wonderful things and experience things beyond what I could have imagined.
If I didn't have any kids, I probably wouldn't have stopped smoking. I probably wouldn't do craft everyday. I probably wouldn't try to eat salad and vegetables (I hate veggies!). I probably wouldn't see the need to change myself for the better, if it were not be a good example for my daughter.
I probably wouldn't be hanging out with Ninit as much as I can remember if we both didn't have children. I wouldn't be having play dates with Shinta if there were no Naia and Aina. And that means, we wouldn't have created The Urban Mama.
When we first created The Urban Mama, we didn't have much planned. The three of us have such different backgrounds and different lifestyles. We only have one common goal: to raise our kids the best we could. We face different problems and run into different types of obstacles. And even when we were faced with similar problems, we would take different routes to solve it.
Being the eager and inexperienced new parents that we are, hearing first hand stories feel more real and relevant than reading some old textbook by ourselves at home. If the three of us could have so much fun and learn so much from each other, imagine what would happen if we can listen to all of these first-hand stories and experiences from many more parents with different backgrounds.
Thus, The Urban Mama was born a year ago.
Much like having kids, The Urban Mama turned out to be full of pleasant
surprises. I didn't know that it would play such an important role in solving most of my parenting problems. I found out that I'm not alone in my worries about my daughter's weight, or the fact that there are other moms facing depression and dealing with similar issues with mine. And I get to become friends with these people, whom I wouldn't have met otherwise.
To be honest, none of us had the foresight of The Urban Mama's usefulness; I probably wouldn't have guessed that a simple idea of giving space for sharing could touch so many people's hearts and affect so many people's lives.
So, yes, having children is a blessing, indeed. Not only did I get a cute little girl that makes me smile everyday, but I also got an organically-growing encyclopedia on parenting, two best friends and many, many more new friends from The Urban Mama.
Thank you all for being such an important part of my life.