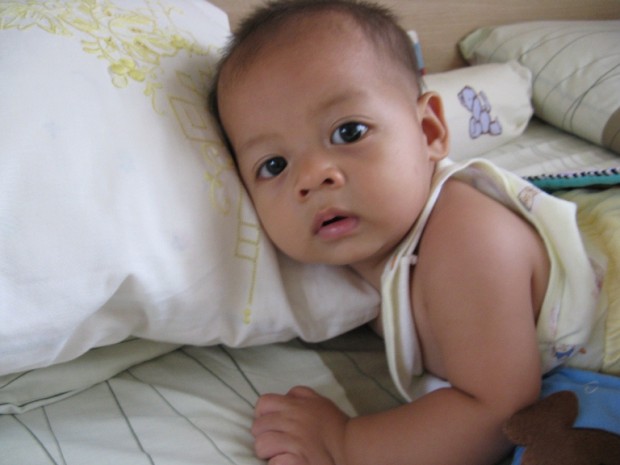 This morning I experienced that horrible feeling of hearing my baby cried because she fell off from the bed. It was terrible, and even more so because it happened on my watch.
She was awake after her milk time, playing around, and I swear I had just thought about getting her into her crib, but somehow I fell asleep and woke up because of her loud cry. I opened my eyes only to find that the barricade of pillows had been breached and she wasn't on the bed. I rushed to the other side of the bed, and there she was, on all fours, crying like hell. At that time, I felt like I was the world's worst mother.
I tried to stay calm, because  I thought panicking would only make the baby even more stressed. I breastfed her, and then slowly the crying fades and she fell asleep. I made use of that time to browse about this situation and also BBM-ed a few friends.
Based on the browsing and the chats, essentially these are what we need to do after a fall:



It is okay to let your baby fall asleep after a fall because it would calm her down. You can do the physical check up later after she's awake.


Observe behaviours. Fever/vomiting is a bad thing and when this happens, baby needs to be taken to a doctor immediately. Pay attention to other changes in behaviour according to her development stage (changes in crawling, standing, walking, talking, etc).


Check for physical injuries. Massage the baby thoroughly, including the head, to find out whether there are parts where she got hurt. You can tell from her reaction if she screams/cries when you massage certain parts.


Stay calm.


Don't beat yourself up. This has happened to a lot of other moms out there and this one thing absolutely doesn't make you a bad mom.


About 10 minutes later she woke up all fresh like nothing happened. I massaged her thoroughly, and there was no screaming/cries. I continue to observe her, and everything was just like usual. Bath time, meal time, poop time, all was according to her usual routine. So I went to the office and continue the day, thanking God that she was okay.
I guess the worst part is accepting the fact that I can't always protect her. She's only 9 months old and already these bad things are happening. There will be more to come, and all I can do is make sure she's ready to rise above them. After all, that's what parenting is about, isn't it?
*credit foto: Gabriella Felicia