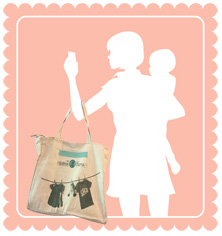 Hi TUMblers, we have good news for you!
Remember those TUM tote bag that we've been providing for the winners of TUM Writing Contest in December? It is now available for all TUM members!!
TUM tote bag was actually made as a merchandise that we wanted to sell in our goodies shop. No, it does not mean that TUM is shifting gear to become an online shop :) The idea of opening TUM Goodies Shop was actually part of our charity program, where we would sell TUM merchandise to our beloved members as well as to raise money for charity. The idea came sometimes last year and we were planning to launch it in December, just right in time for our first anniversary.
Unfortunately, Indonesia was taking a hit with many natural disasters in the later part of the year. Although the merchandise was ready, the shop wasn't. So we shifted gear and launched a program called TUM4Indonesia instead, where we raise money for the victims of these natural disasters.
We raised a whopping amount of 35 million rupiah and about 4 truckloads of non-cash donations during that period, where we have distributed them to different foundations such as Ibu Foundation, MER-C, Aksi Cepat Tanggap and Tunas Cendekia Foundation. We also received 200 packages of Gain School from Abbot Nutrition. The TUM4Indonesia program is still running and we are welcome to any donations. Our goal is to have a program where we would help others and this program is something we would have all year long. Not necessarily to help the natural disaster's victims, but also to help the less-fortunate people around us. Therefore, you will see from time to time, we would also in the lookout for different programs and ideas to raise money.
TUM Goodies Shop is one of program we launched this year. Right now, we are only selling the TUM tote bags (limited edition, only 150 pieces available!), but other merchandise will be available for sure. So, please do visit our TUM Goodies Shop and get those limited edition tote bags. You can use it as an everyday bag, shopping bag, laundry bag, travel bag, even a gym bag or whatever you would like to do with it. As part of the charity program, 50% of the profit will go toward our TUM4Indonesia fund, where we would use to donate to the less-fortunate friends.
So go get the bag while it lasts by clicking http://theurbanmama.com/goodies and join us to take part in the act of giving. Thank you!