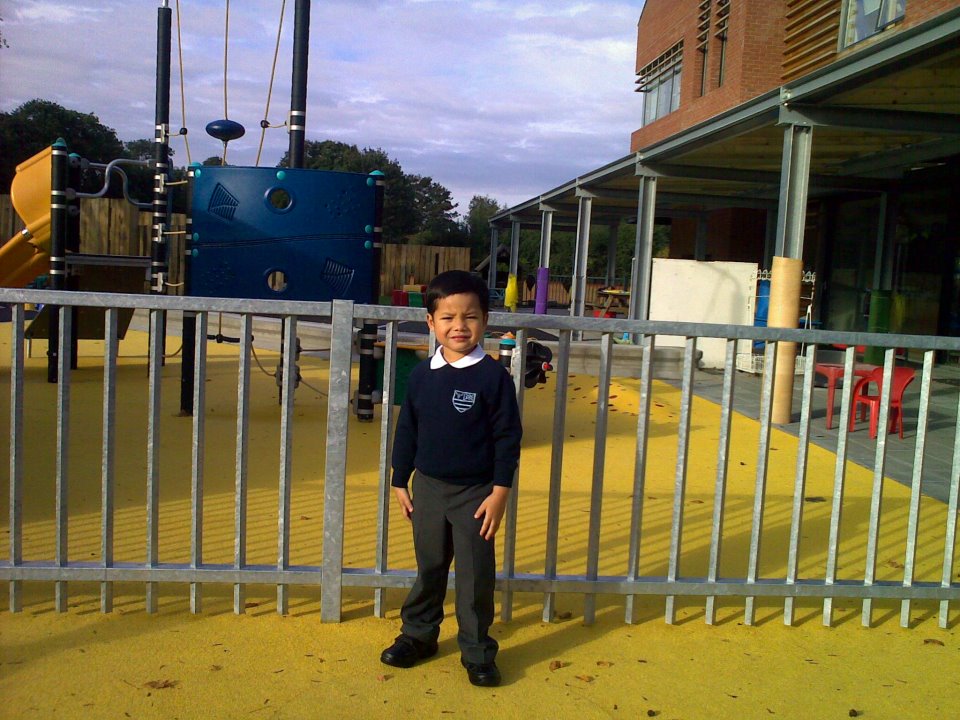 Coming out from a Parent Teacher Meeting at Fadel's school today, I'm reminded again on 'what really matters'.
The first question from the teacher was... whether I made pancake with him recently. Wondering why she asked this, I said "yes... and why?"
Then she shared how excited Fadel telling the whole class about it and repeating the same story again and again. She showed me the sentences he wrote in his literacy workbook which is quite impressive for his age, and... it's about "cooking with my mom".
Then the teacher asked again, what has happened during our last holiday. Again wondering and thinking what we did differently, I said "Mmm... Just a normal holiday - I guess?"
Again, she shared her observation:
Since we came back, till today, he looks much happier. He engages more with his friends. He's very confident.
He laugh a lot, smiles a lot. and it is all reflected in his work too.
He drew a nice picture of all of us, titled "We went to Bali."
It surprises me.
Never had clue at all that those activities, that honestly look very "normal'' to me, are obviously very memorable moments and a BIG deal for him... yes a very BIG deal!
Isn't it:
Making pancake = an activity to produce something nice and fast to eat in the morning?
Holiday in Bali = break from work, nice island (well... we've been there couple of times though)?
As I thought about it again; how come I didn't see what he sees, or... to be precise, I didn't see the way he sees. The answer probably is how easy it is to fall into a work 'trap'. It does feel like it is the only thing matters in life.
Fadel reminds me,
He won't be impressed by hours I spent at work or amount of work I''ve done that day.
He wont remember at all, not even have clue... the great reports, presentations and projects I had delivered.
He wont even care the recognitions as result of a good work.
What really matters for him are:
Fun time making pancake with mom.
Proud moment when beating mom in monopoly.
Enjoyment of reading books every night with mom and listen to her bedtime story.
Excitement of the cinema night. When living room is turned to be a cinema with popcorn and light off... plus a permission to stay late!
You're right Fadel! Those are the ones that really matters.
Those are the ones that will always put smile on your face... anytime!
Those are the ones that will always be with you... for years!
I know, because my mom showed that to me.
I'm glad to contribute to your childhood great memories, to paint colors on your life.
I hope those will last long as what my mom's did to me.
Thank you, sweetie.
Please remind me again, when somehow you see me trapped at work:
"Do you know what really matters?"