Back On The Road As A Running Mom: I'm All In

If you told me 10 years ago that one day I would become an Adidas running ambassador when I'm 36, I would've thought you're crazy. I was pregnant with my first baby then and in my mind once you have a baby you'd be pretty lucky just to be able to go to the gym twice a week.
Yes, I used to be part of a track team in my high school when my family lived in the US. We had a mean coach that made us run laps around the football field for a warm-up session and yelled at us for being too slow or ran out of breath too quickly. I ran 400m sprint and4x400 relay races for the team. But please bear in mind, I was 15-17 years old then and have that adolescent energy that kept me going. Ever since then I never ran longer than 3,5km let alone consider myself as a runner.
Birthdays have a way of stopping you in your track - forcing you to take a stock of your life and your future. When I turned 36 last year, I can't believe I'm a mother of two handsome boys, Zoltan (9) and Navarro (almost 4). I still remember the day I gave birth to my eldest and thought what I did to deserve such a beautiful little creature. Zoltan now speaks his mind and grows up to be a very thoughtful kid. I also felt like I just gave birth to Navarro and already he's turning four, bringing laughter inside our home with his playful behaviors.
I didn't realize how much this birthday would affect me. I love each stage of motherhood. But this birthday has made me wish things would slow down a little. I don't want time to move so quickly.
When I think about where the last 10 years have gone, I find myself starting to make a list of what I still want to accomplish on a personal level.



I want to spend more time with my kids, stop spending long hours commuting to and from work.


I want to stay healthy for my kids and be there when they grow up.


I want to train for a challenging event and the list goes on and on.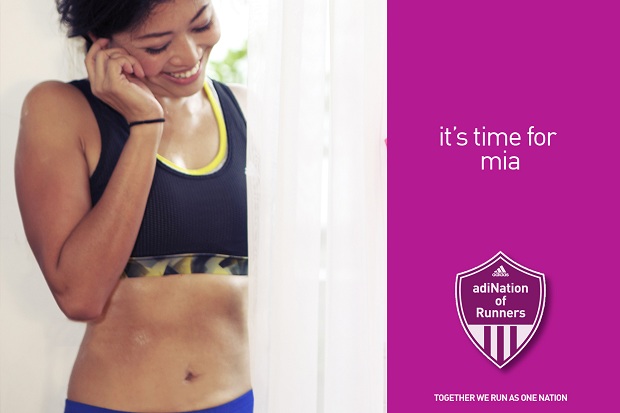 So on 24 September 2012, I decided to give myself a gift. I want to run again. I remember I was out of town for work but had my training shoes with me. I decided to put them on and ran for as far as I could manage. I did about 3,5km that day if not less and I was already panting.
Luckily I have a husband that was already running, so I started running with him more regularly. And then he suggested that we both join running communities to find new routes and buddies to spice things up. From 3,5k to 10k, from road runs to trail runs. Before I knew it I was hooked!
We started joining adiNation of Runners (aNR) Indonesia late Dec 2012 when my husband asked me to tag along for another group run. We both clicked instantly with this group as it sets different routes every Sunday, making running more fun. It's not a big community so they have a way of making you feel like you're running with a bunch of close friends. Also, all the Adidas running ambassadors including Pasha Yudadibrata and HelenSusanto, were generous with their running tips and constantly encourage all runners in the group to push their limits.
I found that your running improves once you surround yourself with people that share the same passion. It sure works with me. I challenge myself in setting personal records, strengthening my core muscles, improving my running form. As a bonus I get to my ideal running weight in no time and my speed and endurance levels are improving.

This April 2013, adiNation of Runners dedicated a social media campaign for moms. And Pasha and Helen have kindly asked me to support this campaign along with the other Adidas running moms Novi Cheung, Juanita Dewiana, and Liana Tasno. I'm very thrilled to have been chosen for this campaign and the other girls are so inspiring making the whole process so much fun!
With this campaign, we want all moms to feel they can look and feel fit when they set their minds to it. It's not impossible to set aside time for yourself to exercise while you juggle all the other things. When you make "keeping healthy" part of your life, you make time.
My 36 birthday was my wake-up call. I asked all the questions: what is it that you still want to accomplish? What are the challenges you want to overcome? What are the memories you want to create? Don't you want to be healthy and see your children grow up?
As my birthday made clear – none of us are getting any younger.