Feeding Your Newborn Baby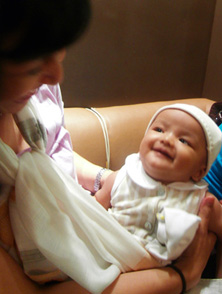 As a new mom, we often wonder how much milk would a baby drink. If they are being breastfed, how do we know that they have enough milk? Are they crying because they are not getting enough? Eventhough you have breastfed them all night long.

For a new mom, babies may be a bit complicated to understand. Obviously because they can only cry. So it is quite a challenge for a new mom to deal with babies when they just first born. Mostly, newborn babies cry for 3 things:


They're hungry


Their diaper is wet or already filled with poo


They want their mama and want to be cradled


But they can be other reasons, like colic or gas, etc. But the above three are usually the common reasons they cry. So, when you think the baby is hungry, you wonder how much milk do they need? Especially when you know you just fed him less than an hour ago. So how can you know? There are ways that moms can do to ensure that the baby is fed at the amount they need. Here are some tips you may need to know:

Feeding Schedule
Newborns and young babies make their own feeding schedules, but overtime, you can teach and put them on a feeding schedule. Babies are a creature of habit. It's better to put them on a schedule since young, so that they can understand the schedule and play by that rules. Having a feeding schedule helps avoid a hungry baby from overeating.

It is recommended that you follow "Demand Feeding" schedule for your baby, which means feeding the baby whenver she acts hungry or wants to eat. Gradualy, a routine will develop.

For bottle-fed babies, generally, give your baby a bottle every 3-4 hours. For the first month, don't let your newborn sleep longer than 5 hours without eating. By the second month, your baby should be fed every 4-5 hrs. As they grow older, you'll notice the routine and when they are sleeping, let them sleep all the way through, as they also need their sleep.

Breast-fed babies should be fed 8-12 times per day or more often, which means feeding at least every 2-3 hours. for the first month, don't let your baby sleep longer than 3-4 hours without being fed. Same with the bottle-fed babies, as they grow older, they can sleep more without being fed. My personal experience is that my daughter would wake up if she's hungry. So if she doesn't, I wouldn't wake her up but she will get a big feed once she wakes up from her sleep.

How Much Milk
For bottle-fed babies: According to the American Academy of Pediatrics (AAP), a newborn should consume around 30-90ml of formula per feeding. By the end of the first month, your baby should take 60-100ml per feeding. Each subsequent month, you should increase the average feeding by 30-40ml, until you reach around 240ml per feeding.

For breast-fed babies: According to the authors of "What to Expect the First Year," when a newborn is breast-fed, he should be allowed to nurse for as long as he wants. It's okay if your baby unlatches a few times or nurses slowly. One feeding can take up to 45-60minutes and you just feel like all you do just nurse him all day. Make sure you switch breasts every 30-45 minutes or whenever the baby seems uninterested in the first breast. Allow him to feed until he doesn't want anymore.

Signs That Your Baby Is Hungry
Crying is your baby's last resort; you should notice that your baby is hungry well before she cries for food. Watch for these signs of hunger: sucking her hands or the air, pursing her mouth, unusual alertness, rooting (turning to your breasts or "searching" for something to suck) or whimpering.

During the first months, try to listen to the baby's cry and understand it to figure out what she wants. Check her diaper and hold her, if she still cries, then she may be hungry but don't automatically feed your baby every time she cries. If you feed her everytime she cries, you might ignore some of her needs, and you might overfeed her.

Is Baby Getting Enough Milk?
A newborn should produce at least five dirty diapers each day and at least eight to 10 wet diapers each day. As they grow older, of course, the amount of time that the diaper is dirty or wet may vary and she could go on without passing motion for more than 5 days. Don't worry, as long she looks fine and not constipating, she's okay. Just observe and make sure that she would pass motion within 10 days, otherwise, you may want to check to her pediatrician.

Your baby should also seem satisfied after a meal.

If your baby is showing these signs, then she is eating enough.

*references: "How Much Milk Should My Baby Drink" by Lauren Orcutt
Post a Comment
You must be
logged
in to post a comment.