How Much Milk Should a Toddler Drink?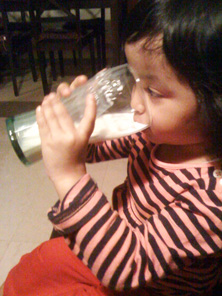 Just two weeks before Naia turns to 2 years old, she was fully weaned and no longer needed to be breastfed to sleep. She has started drinking cow's whole milk (UHT or pasteurized) since she was 1 year old as an addition to breastmilk while i'm at work, so the weaning process was quite easy and I don't have to worry that she's not getting enough calcium because she loovves her milk.

Since she has been eating well, I figure that she doesn't need as much milk because she should be getting her nutrients from her food. This is also the reason why I opted to give her fresh whole milk instead of formula. Many formula milk is promised to have many nutrients and ingredients that's good for your baby/toddler, but I think I'd rather she takes the nutrients directly from her food, by chewing it, and not just swallow.

At around 25 months, I notice that she really takes her milk like water. She takes it down very fast and could finish 1 litre of milk, less than 2 days. Then I start to wonder, does she drink too much milk? Should I limit her milk intake? Is it good? What would happen if a toddler drinks too much milk? I have all these questions and starts poking around and google some information on the Internet. Here's what I find!


Before a child turns one, their needs for formula/breastmilk vary quite a bit. Once they turn one, they should make a switch from formula/breastmilk, to whole milk. Try giving them the whole milk diluted with water bit by bit. It may cause a reaction to their stomach, but as long as it's not severe diarrhea or allergy, keep giving it until their tummy is acceptable to the whole milk. For the case of kids who are formula-fed, the problem may not lie in the acceptance of their tummy to the whole milk, but even the acceptance of taste (usually formula milk is sweeter in taste). You may try to give the whole milk along with formula, little by little, increase the amount of the whole milk until your child is fully fed with whole milk.




A child between the ages of 1-3 should be drinking around 500-750ml of milk per day, and no more. If you find that your child wants more, give them a cup of water in between meals, or even diluted juice. They don't get all the nutrients they need from the whole milk, so they need to get it from the food they are eating, so try and give them a good amount of fruits, vegetables and proteins.




Once your child is 2, you can actually switch them to 2% milk, instead of whole milk, but they still need the calories till then. If you give your child too much milk, it can lead to constipation, even full ness. They won't want the solid foods that they get other important nutrients from, which can lead to more problems.




If you have a dairy-allergic toddler, then enriched rice, hemp, oat, soy, or nut milks are good alternatives for calcium and vitamin D consumption.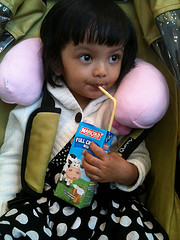 Pffiuuh.. so I guess Naia has been drinking quite a good portion of milk. I can also see that the amount of milk that she's drinking doesn't really impact her eating habit, so she still takes the nutrients from her food. I still give her whole milk instead of 2% milk because Naia is definitely not overweight and she can take more fat on her body, so I'm not switching yet.

So what happen after she's over 3 years old? From what I found, kids over 3 years old should lessen their intake of milk. But some kids really like their milk. So if they are still thirsty, just give them some water in between meals.

Every child is different, but the above is the guideline to follow. If your child has special needs, then consult with your pediatrician.